May 17, 2014
05/17/14

By Subscription Box Mom

1 Comment
1
Julep Golden Mystery Box Review + Free Box
Julep Golden Mystery Box Review – This post contains affiliate links
Julep recently released the Julep Golden Mystery Box.  It was $24.99 was packed with $100+ of must-have nail polish and beauty products. One lucky winner will find a gold-capped, confetti-filled polish bottle inside—a golden ticket! If you find it, you'll get to name a Julep polish from an upcoming Maven collection. Once it's released, Julep will send you 25 bottles to share with friends.  There was also a promo to get the cleansing oil free with a $25.00 purchase.  It may still be available, just click HERE and Use the code OILPERK to get the oil free.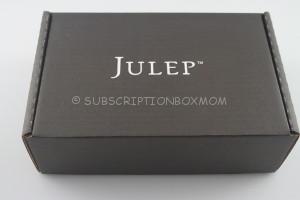 Julep shipped their mystery box in their normal black box.
The first thing I saw was the Konjac sponge and I am excited to check it out.
Konjac Sponge $9.60 Maven Price: This super-soft sponge is an all-natural exfoliant made from the fibrous root of the Japanese Konjac plant.  It also comes with a suction cup to stick on your mirror or shower.
Forget Me Not Seeds: I don't have a retail value on these.  I need to plant these and the ones from a past box,  Anyone know the best time of year?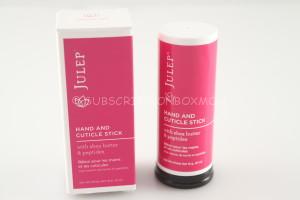 Julep Hand and Cuticle Stick $17.60 Maven Price: Moisturize and protect in one easy no-mess step. Restore the youthful appearance of your hands with a peptide punch to strengthen and repair your skin. Vitamins C and E nourish and soothe.  This goes on a bit like paste, but rubs in nicely.  I will probably just use this on my cuticles.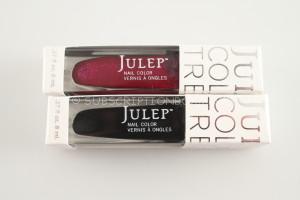 Petra -Boho Glam $11.20 Maven Price:  Cranberry magenta with silver shimmer.  I love this and I don't have it.
Cleopatra-Bombshell $11.20 Maven Price: Black latex crème (*no latex in formula).  I don't have a black nail polish.  I want to make some Mickey Head nail art with this.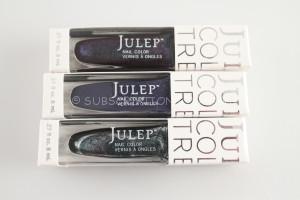 Kristen-Bombshell $11.20: Deep sea teal with silver microshimmer.  This is the one polish I already had.
Millie-BoHo Glam $11.20: Vintage indigo crème.  This reminds me of a pair of blue jeans.
Ciara-It Girl $11.20: Vampy magenta with teal microglitter.  This is a really cool color and I can't wait to try it.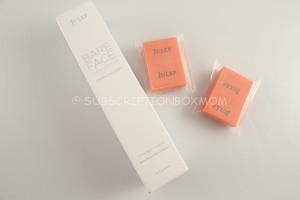 I added the Buffer Blocks ($2.00) to reach the $25.00 mark, so I could get the cleansing oil free.  If you click HERE and Use the code OILPERK , can get it free with a $25.00 purchase.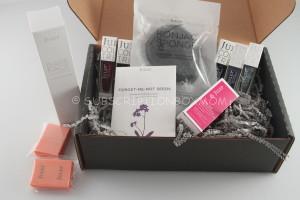 Final Thought:  This box had a total value of $83.20 but I am pretty sure Julep used the full retail value, for the "over $100.00 " value.  I am really happy with this box.  The black and pink polishes are my favorite.  I am also happy that I got the cleansing oil free.  Are you a member of Julep? You can try Julep FREE by clicking HERE and the code FREEBOX,  You can also subscribe and get a 5 piece set free with the code HELLOYOU, just click HERE.

Disclosure: This post contains affiliate links