Designher Kit – Coupon – Jewelry Craft Subscription

Designher Kit is a Canadian subscription box that sends 3 designer DIY projects to craft each month.  Dana Frydman, the founder says "DIY has never been hotter, but not everyone has the time and patience to wander shop to shop buying just the right supplies.  We're like the Better Crocker of crafts- just add an "egg".  We take the chore out of crafting while giving you everything you need to create beautiful, high-quality and gift worthy pieces, and right at home".  Designher Kit is $19.00 a month Canadian (@$17,35 USD).  I was sent the April kit to review.
The Details
Cost: $19.00 Canadian (@$17.35 USD)
Shipping: Free for everyone in Canada.  $5.00 to the United States
Coupon: Use the code SUBBOXBONUS to get a bonus project in your first kit
What's in the box?  Designher Kit ends 3 designer DIY projects to craft each month.  
Can I customize my kit? When you purchase your subscription you will be asked whether you prefer gold or silver toned jewelry. They try to accommodate your preference each month! Down the road, they plan to customize further, offering kits for either the classic or trendy Designher gal.
What tools do I need? Most projects will require some or all jewelry pliers (needle nose, round nose, wire cutters), scissors, glue gun, needle and thread. These items can be purchased in most craft or beading supply stores. We also sell a DIY Starter Kit for only $29 + shipping ($5 in Canada, $10 in the USA).
When am I billed? You will be billed immediately for your first kit. Subsequent charges will occur on the 1st of each month. i.e You are billed May 1st for your May kit.
When does the kit ship?  Designher Kit ships between the 5th and 10th of the month. Packages will arrive within 5-10 days.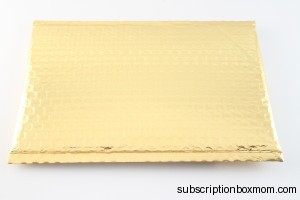 Designher comes in a gold envelop and ships from Canada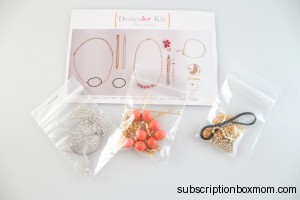 Designher comes with three pieces of jewelry in little baggies.  There are full instructions for each piece on their website HERE.
This month, the projects are:  a rhinestone alice band, a coral necklace, and a dainty anklet.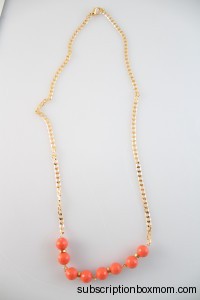 The coral necklace was the easiest project to do.  This one was really fun to do.  I only needed two needle nose pliers and wire cutters to do this.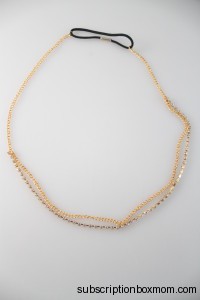 This rhinestone Alice band is really interesting.  I wasn't completely sure if it is meant to be worn as a headband or around my forehead.  The chain wasn't long enough for a headband, so I made it to go around my forehead.  This one was pretty easy to make as well.  it involved lining up the chains just right, but it turned out well.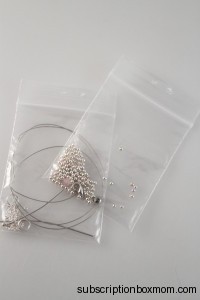 I had trouble with this project, the anklet.  I was supposed to thread the wire both ways through one of the beads.  The beads were too tiny to do that, or I wasn't crafty enough to do it.  I was a bit disappointed, because I was excited to make it.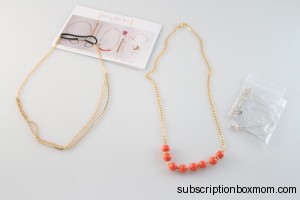 Final Thought:  Designher is a cute subscription box.  I loved the projects this month, but I was disappointed I couldn't complete the anklet.  For less than 19.00 a month (usd), you can get three projects to complete in your home.  If you need the tool kit, you can buy DIY Starter Kit for only $29 + shipping ($5 in Canada, $10 in the USA).  Designher is $19.00 Canadian plus $5.00 shipping for those in the United States.  To check out Designher, click HERE.  Don't forget to use code SUBBOXBONUS to get a bonus project in your first kit
Do you love Giveaways?  Check out all my Giveaways HERE
Disclosure:  I received this box free for review.  My opinions are my own.
No Comments Yet