April 8, 2014
04/08/14

By Subscription Box Mom

0 Comments
0
Wantable April 2014 – Makeup Subscription Box
Wantable has three different subscriptions : Makeup, Intimates, and Accessories.  When you sign up, you choose a category and answer a few questions, so Wantable can match you with the perfect products.  Subscribe for $36.00 a month or buy a single box for 40.  Subscriptions are shipped automatically each month and can be skipped or canceled anytime.  I get the makeup subscription, but they have accessories and an intimates subscription too.  Each box is packed with full size products hand-picked from unique, specialty, and  premium brands to perfectly fit your style.  If you don't love your box, you can send it back for a full refund!  No more buyers remorse.
The Details:
Cost: $36.00 for a subscription or $40.00 for a single purchase.
What's in the box and the subscriptions: 
A.  Makeup: 4 to 5 full-sized premium makeup products, hand-picked to perfectly match your preferences.
B.  Accessories: 3 to 4 boutique accessories, handpicked to perfectly match your preferences.
C.  Intimates:   4 to 5 premium essentials, handpicked to perfectly match your preferences.
Can you pause your subscription?  Yes!
How do I cancel?  You cancel right from the website
Can I change my preferences?  Yes, just log into your account.
Wantable: www.wantable.com
 This month, Wantable shipping in a white box with little w's on it.
There was a quote on top with an information sheet.  "It's better to be absolutely ridiculous than absolutely boring"-Marilyn Monroe.
Sorme Eyeliner $16.00: This makes a nice dramatic line and dries fast.  The brush is tapered, for a perfect line.  This goes on so easily and I love it,
Rainbow Honey nail polish $10.00: "Kitsune" is a glorious nine-tailed creature: fiery, wise, and absolutely gorgeous. In a cream base full of gold shimmer and flecks you will find an array of glitter in a bonfire palette, ready to spark a fire in your heart.  This is a nice beige color with red flecks.  This is a nice polish for a night out.  The beige is neutral but the red glitter spices it up.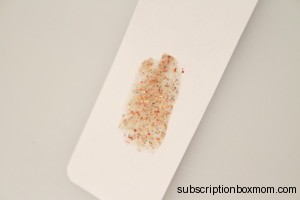 Here is a swatch of the polish.  It looks really nice and I am excited to use it.
 Cailyn Cosmetics Built In Sponge Tip Mineral Eyeshadow Iron $15.00: I thought this was nail polish at first.  This is actually eyeshadow with a sponge tip applicator.  You can put this over a primer for a long lasting opaque look.
 Glam Natural Cream Brushed in Sun Kissed $32.00:  This product wins the award for best packaging.  The cream blush was in a pump that was GOLD.  It was packaged in a velvet pouch and packaged in a cute box.  I love the product just for the packaging.  The blush is a liquidly cream.  You only need a tiny bit, because a little goes a long way.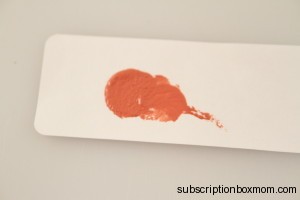 Here is swatch of the blush.  It is more pink in person and is beautiful on.
 Final Thought: This box had a total value of $73.00.  The box is only $36.00 a month and I got a great selection of products.  My favorite product is the cream blush, but I loved everything.  Wantable has improved their quiz, and I think this box was well curated for my tastes.  Once you sign up, you can also switch between the makeup, intimates and accessories boxes.  You don't have to get the same box every month.  Don't forget, if you hate your box, you can also return it.  If you want to try Wantable, click HERE.
Do you love Giveaways?  Click HERE to enter all my Giveaways.
Disclosure: This post contains affiliate links