April 20, 2014
04/20/14

By Subscription Box Mom

0 Comments
0
Nerd Block Jr. April 2014 – Girl – Children Subscription Box
Nerd Block has released a new line of subscription boxes for children, Nerd Block Jr!  It is $13.99/mo plus $6.00 shipping. Nerd Block Jr. is a monthly surprise package just for kids! Shaping tomorrow's nerds today, Nerd Block Jr. is specifically designed for children aged 6-11 (give or take a year) and is filled with toys and games just for them!  There is a huge lack of boxes for older kids, so I was excited to check Nerd Block Jr out.  I reviewed the Boys Nerd Block Jr HERE this month, and it was super cute.
The Details:
Cost: $13.99 plus $6.00 shipping
What's in the box: Nerd Block Jr. is filled with toys, games, and collectables from your kids favourite brands including Star Wars, Disney, Adventure Time, My Little Pony, Angry Birds, and many more!
When am I charged? Initially, you will be charged for your first Block at the time you register for your subscription. Then, you will be billed at the beginning of every month for that month's subscription (January block is billed on 1 January). The monthly billing closes on the 8th of the month. 
For example, if you subscribe on January 10th, that payment will be applied to February Block (remember, the closing date for January was the 8th). Your next billing will occur on March 1st for the March Block.

 
If you subscribe prior to the closing date for that month's Block (you subscribe on January 7th or prior) you will be billed immediately for January's Block and your next payment will occur February 1st for February's Block.

The closing date can be found on the homepage (hint: it's the countdown timer).
When does it ship?  Nerd Block Jr. is sent out at the same time as Nerd Block – approximately the 15th of every month, give or take a day. Once your Nerd Block Jr. is shipped, you'll receive an email notifying you of your tracking information! 
How do I cancel? Cancelling a subscription is easy! Just email cancel@nerdblock.com with your name and address, and they will cancel your account. Please note that all orders must be cancelled 24-hours prior to the 1st of every month.
Website: https://nerdblock.com/#nerdblockjr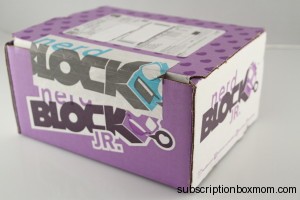 Nerd Block Jr ships from Canada.  They don't have an information card, but due to customs, they have the contents listed on the box.
 Grouchy Smurf $4.79:  This is a cute little guy.  L hasn't seen this yet, but my brother (adult) wanted to snatch it up.
Playmobil Mystery Figure: $4.99 : My almost 4 year old loves Playmobil.  I am sure he won't mind adding a girl to his play.
Baby Filly Princess $2.00:  Baby Filly Princess is a bit like My Little Pony.  This pack includes one little collectible pony.
Tinkerbell sticker $1.00: This is a cute Disney sticker.  I don't like the attitude of the sticker, but I might be a stuffy, uncool mom.
My Little Pony $7.95: This is a set of three My Little Ponies.  I used to have a whole bunch of these as a child.  I may save these for a classmate of L or I might just keep them for myself.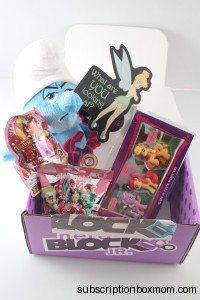 Final Thought: The total value of this box was $20.73.  This isn't a huge value, but it is over the cost of the box.  I really loved this box and I think most girls 6-11 would too.  Like the Boys Nerd Block Jr, I think this will also work for 5 year olds.  To sign up for Nerd Block Jr, click HERE.
Do you love giveaways?  Click HERE and see all my current giveaways.
  Disclosure: This post contains affiliate links.   I received the box free for review.  My opinions are my own and I was not compensated in any way.