April 26, 2014
04/26/14

By Subscription Box Mom

0 Comments
0
Montubox April 2014 – 7-9 Year Old Girl – Discount – Educational and Creative Activities Subscription Box
Montubox sent me this box to review.  Montubox sends boxes filled full of fun goodies, including learning activities, puzzles, arts and crafts, and an educational book. Each package has its own unique monthly theme — examples include animals, sports, transportation, and planet Earth. Montubox is for children 4-9 years old and they send boxes by your child's age and gender.
The Details
Cost:
$34.95 Monthly (two-month minimum)
Monthly Subscription and One Sibling Addition: $39.95
Monthly Subscription and two Sibling Addition: $104.85
One Month Gift $39.95
Three Month Gift: $129,95
Coupon click HERE and use the code SUBBOXMOM to get 10% off the first month. It can also be used for the one-time and three-month gifts.
What ages are the boxes for? Boxes are designed for the groups of 4-6 and 7-9 and according to gender 
What's in the box? Every month you'll receive an array of surprise activities for kids ages 4 to 9 such as hands-on projects, arts and crafts, puzzles, and an educational book. They select items from toy shops that focus on creative development and on educational toys. We always include a book from a prestigious educational publisher as well. For Monthly Subscriptions, the first month is a welcome box, and boxes the following months have their own unique theme (examples: The Animal World, Space & Plants, Transportation, and Weather). These are fun, effective, and productive activities for children.
When will my box ship? Montubox packages are shipped around the middle of every month and it takes 1-5 business days to arrive at your home. The shipment of your very first Montubox might vary depending on when you sign up, but we will ship your Montubox mid-month every month after that.
When am I billed? You will be billed when you sign up, and then in the middle of the month for as long as your subscription lasts. If you sign up before the end of the month, you will receive your first Montubox that month, and then receive the following boxes around the middle of the following months. They accept paypal!.
How do I cancel?  Email orders@montubox.com by the 10th of the month.
The theme of this box was Go From Head To Toe
Montubox ships in a very large box.  I was really excited to see what was inside.
Everything was wrapped up in tissue paper and secured with a Montubox sticker.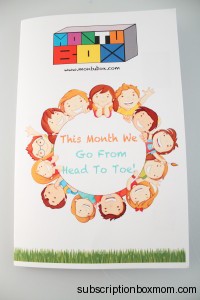 Montubox included a brochure filled with all the items in the box, the theme and a description of the products.
Melissa and Doug Make a Face $4.99: This has 20 different faces and 250 stickers.  Your child can make faces with accessories and many different looks.  I know a little girl that will love this.
Paint Your Own Mask $12.00 This is a fun craft where your child can design their own mask.  I love how there are not any rules
Your Body $4.99  This is a really great book by Usbourne books.  I love that company, because they make such great children's books.  This book walks your child through the human body and how it works.  My almost 5 year old loves it.
Magic Socks $1.50:  These socks, when put in water, expand to a regular pair of socks!
Deluxe Magic Loom Kit $7.55 This comes with everything you need to make those popular loom bands.  It has 25 S Clips, a loom, hook and 600 rubber bands!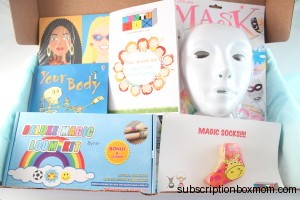 Final Thought:  This box had a total value of $31.03, which is slightly less than the monthly cost, but it has tons of great activities.  I loved all the crafts and activities they included.  The loom bands are super popular and that will be a cool item for girls.  The mask was also really neat, as girls can paint whatever they want on it.  If you are interested in Montubox, click HERE and use the code SUBBOXMOM to get 10% off the first month. It can also be used for the one-time and three-month gifts.
Do you love Giveaways?  Check out all my Giveaways HERE
Disclosure: This post contains referral links