April 2, 2014
04/02/14

By Subscription Box Mom

26 Comments
26
Kreation Krate – Discount – Giveaway – 3 Winners – Craft Subscription Box
Kreation Krate, who sent me this box to review, is a unique monthly subscription box for beginner to intermediate crafters. Each box contains all materials necessary to complete a craft project and a Kind Craft.  These craft boxes are for adults and are $26.00 a month.  The kind craft is a craft designed to be a "random act of kindness" for someone.  I love the idea behind this box.  Not only do you get a craft for yourself, but you make something for someone else.  I received the May 2014 box for review.
The Details:
Cost: $26.00 a month.
Coupon: Use the code CREATEKINDNESS for $5 off your first month
What's in the box? In addition to a craft project for yourself, each month's box includes a craft to create and gift to others, either through a random act or through a charity. You'll receive materials and instructions for the Kind Craft, and will have a chance to share your experience with others!
When will I get my box? Boxes are mailed on the 26th of each month.  Subscriptions placed by the 24th will go out the 26th of the same month.  If you sign up on or after the 25th, your first box will ship out the following month.
How Do I cancel?  You can cancel from your online account.
Website: http://www.kreationkrate.com/
Kreation Krate ships by USPS and comes in a white box.
The box had pretty yellow tissue paper, and I was excited to see what was in the box.
The spray can caught my eye first.  I get to paint things with spray paint
Kreation Krate included a booklet with all the items in the box, and the instructions for the crafts.  This box included: herb start kit, wildflower kind craft.  Bonus recycle craft: storage jars.
Supplies: Chalkboard spray paint, 3 clay pots with dirt pellets, basil/oregano/cilantro seed packets.  Chalk, cloud stencils, white acrylic paint, stencil foam brush, burlap, moss green twine, random act of kindness cards, wildflower seed balls with instructions.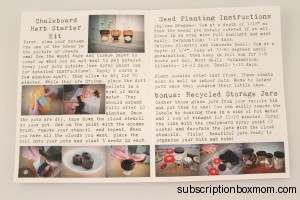 Inside the booklet, there were instructions for the main craft, as well as a bonus craft idea.  You can use the chalkboard spray paint and make new storage jars, from you old ones.
The main craft this month was to make Chalkboard Herb Starter Kit.  There were stencils, paint, chalk, pots, steads, and more!  There was even washi tape.
I used the tissue paper and the washi to tape off the parts I didn't want to paint.  I used the chalkboard spray paint to paint around the top.  This is where you write the names of what is planted.  I used the stencils and painted white clouds on the side.  I had to soak the dirt pellets in water to expand, and then they were added to the pots.  The whole craft took under an hour and was really fun.
The Kind Craft this month was Wildflowers.  There were little seed balls of wildflowers, that are bundled in burlap.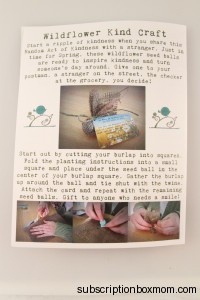 The back of the booklet gave step by step instructions for the kind craft.
These were really quick to put together.  You cut squares out of the burlap, place the seed ball and instructions inside and tie up with string and burlap.  There was also a card to add to the bundle that said "You make a difference in the lives of others!  You are the recipient of a random act of kindness.  Plant this wildflower seed ball as a reminder of everything beautiful in the world.  Scatter seed of kindness wherever you go!"
Final Thought:  Kreation Krate is a great craft subscription box.  I love the combination of paying it forward and crafting.  Not only do you get to craft something for yourself, but you also make something to brighten someone's day.  I am thinking of who to give my kind crafts too.  I may give one to my letter carrier, he is always bringing boxes to my door, and I would love to give back to him.  I plan to take the other two with me, and give them to random people.  If you are interested in Kreation Krate, click HERE and use the code CREATEKINDNESS for $5 off your first month.  Kreation Krate has kindly given three boxes for three winners.  Three different people will get a 1 month subscription.  Just enter below for a chance to win.
Do you love Giveaways?  Check out all my Giveaways HERE
Disclaimer: This box was received free for review,  My opinions are my own.