April 15, 2014
04/15/14

By Subscription Box Mom

0 Comments
0
Julep Speckled Mystery Box – Free Box – Nail Subscription Box
The Speckled for Spring Mystery Box were released.  The boxes are $24.95 and there are three variations.  I picked up the Emerson Mystery Box.  The blue speckled color caught my eye and I had to get a box.  I love Julep polishes and I am growing quite a collection.  If you are new to Julep, you can click HERE and pay $4.99 for you first box.
I was excited to see other products beside just nail polish.  The hand lotion caught my eye!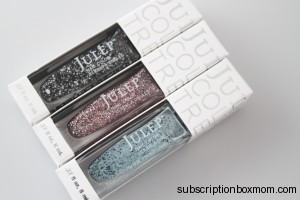 Max-It GIrl: Black and white graffiti top coat
Yumi-It GIrl: Pink, silver and holographic glitter.
Emerson-Classic with a Twist: (Mystery Box): spring-inspired powder blue crème with black speckles.
I love these three polishes and I don't have any other them already.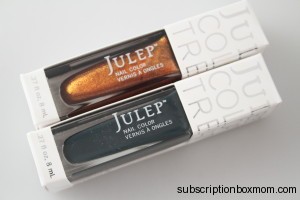 Tatiana BoHo Glam: Golden burnt orange microglitter
Josephine-It Girl: Deep teal grey crème
These two polished are just "meh" for me.  I don't really like Tatiana and Josephine is a bit too dark for my tastes.
Julep Lip Vernis: Nude blush creme lip vernis.  This ultra-creamy, long-wearing gloss has a mirror like finish and is the perfect color complement to your nails.  This is an opaque gloss that I will wear over a darker lipstick.
Whisk away dirt and oil and reveal noticeably softer and younger looking hands after just one use. You'll be surprised that something so effective smells so good! (Insider tip – try this gorgeous scrub all over your body, it's even gentle enough for your face.)
To use: Slightly dampen your skin, then use a quarter-sized amount to cleanse and exfoliate. Rinse well.
Caution: For external use only. Keep away from eye area. Discontinue if irritation occurs.
Sun Alert: Because this product may make your skin more sensitive to the sun, be sure to have adequate sunscreen protection while using it and for a week after you discontinue use.
I tried this out and my hands do feel soft!  This is a keeper.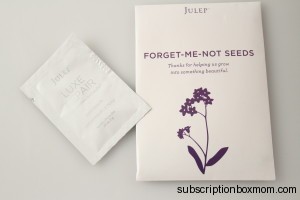 Julep sent some Forget Me Not Seeds and Luxe Repair Skin Serum.  I have had both in previous boxes.  I like the skin serum.  I haven't planted my seeds yet.  My 4 year old got a gardening set recently, so I think I will give these to him.

Final Thought:  This was a really nice mystery box.  I love Emerson and the other two polishes.  Tatiana and Josephine are not my favorite.  The hand scrub and lip product are really nice and a great addition to the box.  I am really impressed with this mystery box.  If you are interested in any of the mystery boxes, you can still get them HERE.
Remember, if you are not a maven, you can sign up and get your first box free, just pay $4.99 shipping.  Just click below to sign up.
Disclosure: This post contains affiliate links