April 24, 2014
04/24/14

By Subscription Box Mom

0 Comments
0
Glossybox April 2014 – Coupon – May Spoilers – Luxury Beauty Subscription Box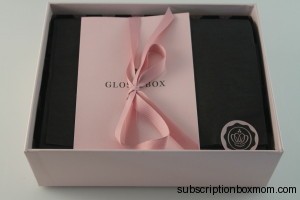 Glossybox is a beauty subscription box that sends five surprise luxury beauty products each month for $21.00. If you want to sign up for Glossybox, click HERE and use the code BONUS to get a to get a free Beauty Blender in your first box.  Read the rest of the review, to find out spoilers for May!
The Details:
Cost: Monthly subscription costs $21 per month (plus tax if your box is being shipped to California or New York).
Three month subscription is a one-time charge of $60 (plus tax if your box is being shipped to California or New York), and is non refundable.
Six month subscription is a one-time charge of $115 (plus tax if your box is being shipped to California or New York), and is non refundable.
Twelve month subscription is a one-time charge of $220 (plus tax if your box is being
shipped to California or New York), and is non refundable.
Coupon: Click HERE and use the code BONUS to get a free to get a free Beauty Blender in your box.
Shipping: Glossybox only ships to the 48 states in the United States (not Hawaii or Alaska), and they do not ship to APO or FPO addresses. However, GLOSSYBOX is also available in the following countries: Austria, Brazil, China, France, Germany, Italy, Japan, Netherlands, Poland, South Korea, Spain, Sweden, Taiwan, and the United Kingdom.
What's in the box? GLOSSYBOX strives to provide the latest in luxurious, high-end beauty products and trends from around the world. The box contents are always a secret because otherwise it wouldn't be a surprise! You will receive 5 luxury items from our monthly selection tailored to your beauty profile.
When am I billed? For monthly subscriptions, payment is taken out for your first Box when you initially subscribe. For subsequent Boxes, you will automatically be charged approximately the second week of each month. However, this can vary for each GLOSSYBOX month and can change at any time.
When does the box ship? Your first GLOSSYBOX will likely arrive the month after you purchase your first Box. GLOSSYBOX will begin shipping the third week of every month; with an estimated delivery of 5-10 business days. Your tracking number will be emailed to you once available.
How do I cancel? You can cancel from your account.
Glossybox ships by USPS.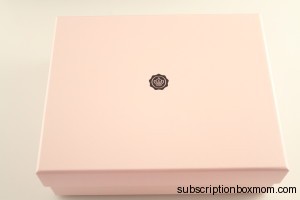 This is the inside box.  It is a nice reusable box.  I save all my boxes to store my extra makeup in.
Glossybox packages everything so neatly.  Everything about Glossybox's presentation says luxury.
LASPLASH Cosmetics $8.98: This intensifies color and provides extra protection against smears and smudges for flawless 12 hour wear.  I am excited to try this.  I love any product that helps my makeup stay put all day.  I work from home with my two children, so if I manage to get makeup on, I want it to stay put.
Application tip:  Apply a very light coat of LASplash Sealer/Base to area intended for glitter or shimmer (across entire eyelid and up to the brow bone.) To avoid creasing, use only what is on the wand. Dab and blend glitter or shimmer with LASplash Duo Brush onto eye area while eyelid is still wet.
Bellà pierre "SUPER gloss BUBBLEGUM Lip glosses" in Vanilla Pink: $24.50: This is made with Natural ingredients and enriched with vitamin E,Jojoba,Avocado and Sunflower waxes it is infused with Palmitoyl Oligopeptide a natural plumper that has the potential to enhance collagen and hyaluronic acid production This increases the volume in the lip tissue and creates the plumping effect, it also helps minimize fine lines on and around the lips making them smoother and more healthy-looking.
I LOVE this gloss.  It goes on silky smooth.  I am not sure about the plumping effects, but the gloss looks fantastic on.  It adds just a hint of color and I want more of these.
Ciate London $15.00: Lip gloss is my favorite makeup item, but nail polish comes in a close second.  I had seen spoilers for this month and knew a Ciate London nailpolish would be included.  I couldn't wait to see what color I would get, but I was really disappointed to see this gold/yellow color.  I do not wear yellow or gold and only have 2 yellow/gold nail polish colors, among my huge collection.  This gives your nails a soft pearlescent effect with a crème base for that classic look with just a touch of sparkle.  I will be looking to trade this with another Glossybox subscriber.
Caldrea Bodywash Aloe Water Apricot: $1.67: This smells amazing and has brightening, free-radical fighting Angelica Root and Linden Flower extracts. I would normally never spend $18.00 for full size body wash, so I will try to use this body wash for special long bubble baths.
Aqua Spa Relax Body Cream $2.22  This one is made with Lavender and chamolile.  It is the relax lotion and it does just that.  This lotion smells amazing and left my skin so soft.  It was thick but not too thick and it didn't leave my skin greasy or shiny.  This is formulated to help stimulate cell renewal, enhance skin elasticity, strengthen skin, boost collagen, and keep skin hydrated.  I am buying this full size on Amazon and I might get the other two scents they have too.  At $10.00 for 9ozs, this is a reasonable price for such a great lotion.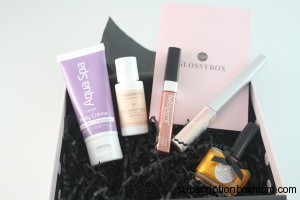 Final Thought: This was an amazing box, with a value of $52.37.  This is my favorite Glossybox to date!  The lotion, lip gloss, and body wash are so wonderful.  I really want to try the nail polish, so I hope I can trade for a better color.  I really love my Glossybox.  If you want to sign up, click HERE and use the code BONUS to get a free to get a free Beauty Blender in your box.
MAY SPOILER: The May Glossybox will feature a collaboration with Bergdorf Goodman.  I have also heard that the May AND June Glossyboxes will be limited editions!  I can't wait to see what next month holds.  Make sure to sign up now to ensure you will get these boxes.  
Do you love Giveaways? Check out all my Giveaways HERE
Disclosure: This post contains affiliate links.