April 20, 2014
04/20/14

By Subscription Box Mom

0 Comments
0
Georgia Crafted April 2014 – Georgia Subscription Box
Georgia Crafted sent me this box to review.  Georgia Crafted send 4-5 products each month, that all all made my artisans in Georgia.  The products can range from food, bath and body, music, stationary, music and more.  George Crafted is $29.99 a month and there are discounts for longer subscriptions.  I have family in Georgia, and I always love visiting, because there is so much great things to eat.  I was really excited to check out this box.
The Details:
Cost: $29.99 a month
$89.97 for 3 months
$161.95 for 6 months
What's in the box?  "4-5 carefully-curated products made by artisans from all over the state of Georgia. Each box includes full-sized products that range from (the very best) food, body & bath products, music, stationery, art and more.
When does the box ship?  The box ships by USPS between the 5th and the 15th each month.  The cutoff date to order is the 25th of the month.
How do I cancel?  You can cancel from your online account.
Website: http://www.georgiacrafted.com/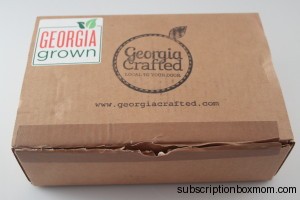 Georgia Crafted ships by USPS
Georgia Crafted includes their information card on the inside lid of the box.  They include information about each item and where each item is from.
Jaemor Farm Market Homegrown Strawberry Preserves  These preserves are taken from the Jaemor Farm in North Georgia.  This looks really tasty!
Verdant Kitchen Savannah Snaps:  $4.99: These are made with premium organic Georgia Grown ginger and is mixed with secret cardamom spice blend.  I shared these with family.  Everything thought they were good but a little too hard and a bit strong.
Weeks Honey Farm Honey Straws-Tupelo: $2.92 These are 100% U.S Raw Honey.   This honey is Tupelo.  Tupelo takes its name from the Tupelo trees in the swamps of the Apalachicola river valley. It has a delicate, floral, slightly herbal taste and is easily recognized by its light amber with a greenish tint color.  They are great for some quick energy or easy to add to your coffee/tea.  These are from Omega, Ga. 
Stripling's General Store Beef Jerky $4.29 Each piece is cut and hang each piece by hand before sending it into the smoker. The results are a low-fat, mouth-watering treat that has become a favorite for many.  This has no artificial flavors, no nitrates,  and no MSG.  My dad and brother loved this!
Fresh Tape 18 Tapes:  $9.99: Freshtape® is your new, time-saving, food-saving way to keep organized in your kitchen and pantry. Freshtape® is a special, patent pending blend of materials meant to make your life easier (and neater). We made sure it was recyclable. And because we saw friends lose jobs to overseas manufacturing and inferior products coming from overseas (not to mention lead paint on kids' toys), we make it in America.  I love the idea of these.  I hate chip clips, because they are so bulky and tend to get knocked off easily.
Maga & Pops: Country Syrup and Pure Cane Syrup: Country syrup is made from Maga & Pops farm grown sugar cane, evaporated cane juice and corn syrup.  This sounds very tasty.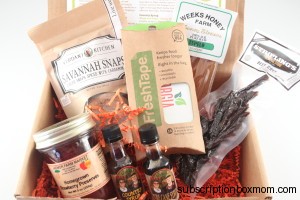 Final Thought: While I couldn't find prices for all the items, I believe this box was worth the $29.99 a month.  This was a nice box,  The Jerky and honey were the highlights of the box.  The resealable bag stickers are really unique and will help prevent my bags from opening up.  I can't wait to try the preserves.  To try Georgia Crafted, click HERE.
Do you love giveaways?  Click HERE and see all my current giveaways.
Disclosure:  I received the box free for review.  My opinions are my own and I was not compensated in any way.