April 1, 2014
04/01/14

By Subscription Box Mom

1 Comment
1
Cinch Mens Wear Review – $10.00 Discount – Men's Clothing Subscription Box
Cinch Men's Wear sent me this box to review.  Cinch Men's Wear is a men's clothing subscription box that sends hand select outfits to meet your unique needs.  They work with well known, as well as up-and-coming labels to bring you the latest styles.
The Details:
Cost: $89.99 Basic Cinch Club, $169.99 Exclusive Cinch Club
Coupon:  Mention my name "Erin Hamm" and save an additional $10.00 on your first outfit
What is the difference between the Basic and Exclusive Cinch Club Membership? The Exclusive Cinch Club Membership will allow us to put together outfits with premium brands. It also provides us a bigger budget for you so we can add additional apparel or accessories to better complete your wardrobe (e.g. blazers, ties, belts). Regardless of which membership you choose, you will still experience savings.
Will my account be billed upon joining the Cinch Club? No. We use paypal to process our recurring payments but don't worry when you see the membership price. When you sign up PayPal will store your credit card on their secure system for future charges. We only charge for whatever you decide to keep.
How do I cancel? email cinchclub@cinchmenswear.com.
Website:  http://www.cinchmenswear.com/
So How Does It Work?
1.   Subscribe to Cinch Men's Wear (You do not pay upfront), but they will store your credit card for future charges.  You will get an email from Cinch Men's Wear with some questions about your, or your guy's style.
2.  Cinch Men's Wear will  email you photos for two different outfits to review. Review the email and decide whether or not you want them shipped to you.   You can choose for them to mail one of the outfits, both. or skip.  You may skip the month or request us to pick other outfits if you do not like what you see.
3.  Choose to receive an email once a month or every quarter (three months)!
4.  Once you get the outfit, you have 10 days to try them on at no charge. If the outfits are not post marked for return within 10 days of receiving the clothes, you will be charged for those items.
5.  If for some reason the outfits do not fit just email sales@cinchmenswear.com, and they will email you a return label. All returns must be in unused, unworn, unwashed and undamaged condition. Tags should be intact, if applicable. For further information on our return and refund policy please visit the terms & conditions page.
My Review:  My husband is 6'5 and has a 38″ inseam.  He is really hard to to buy jeans for, so I was excited to see if Cinch Men's Wear could help him
Step 1.  I received an email from Cinch Men's Wear asking me the following questions:
 What are the typical brands he wears/enjoys?
–  If he had to pick between the following three items, which would he choose: casual button downs, polo, or t-shirt?
– When choosing a type of fit, does he prefer relaxed or fitted?
– When selecting denim, does he has any preferences regarding style? For example: flip pockets, designs on pockets, or simple?
– What is his body type?
– How much does he weigh?
I was even able to email them some pictures of his style.
Step 2.  I received an email with pictures and descriptions of two outfits.  I am not including all the pictures or the descriptions in my review.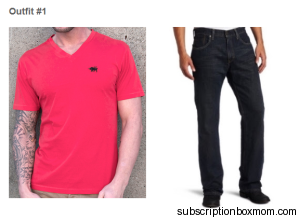 Esposito T-Shirt – Retail Price: $42.00
Levi's Denim – Retail Price: $68.00
Total Retail: $110.00
Cinch Club Price: $89.99
Savings: $20.01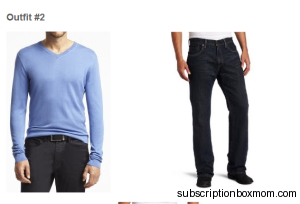 Kennth Cole Long Sleeve – Retail Price: $59.00
Levi's Denim – Retail Price: $68.00
Total Retail: $127.00
Cinch Club Price: $89.99
Savings: $37.01
Step 3.  C chose outfit number 1.  They couldn't find two different pairs of pants, so they sent and extra Esposito Polo.
 The box was shipped USPS and arrived in just a few days.
After opening the box, there was a brown paper wrapped package inside.
All the clothes were in clear bags, just like you would get a shirt from a company.  Everything was bundled together with twine.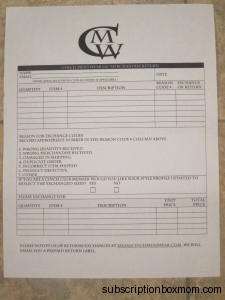 There was a paper invoice for my outfit and a paper to fill out, if I wanted return anything.
Both of the shirts were from Esposito.  This was a new brand for C, which I was excited to see.  Normally, Cinch Men's Wear would only send one shirt, but they send two, since there wasn't another pair of jeans to choose from.
The Jeans were from Levi's 559 Relaxed Straight Fit Jeans.  I knew C would love these, as this is his favorite brand of Jeans.  C actually has to special order all of his jeans, as stores don't sell jeans with inseams of 38″ (at least we haven't found any).
This was C's favorite look.  This is what he would wear everyday.  The polo was a great quality.  The jeans fit great and were a nice dark color, without being too dark.  Note: C didn't want his face all over the internet, so that is why I took the picture this way.
This red t-shirt is outside C's comfort zone, but I think it looks great on him.  C hardly ever wears red, but I think it is a great color on him.
Final Thought: Cinch Men's Wear is a great clothing subscription box for men.  You can try them risk free!  You have the ability to share details with Cinch Men's Wear and get an outfit that fits your/your guy's style.  Once you decide which outfit you want, you have 10 days to try it on, before you buy it or send it back.  If the outfit doesn't fit, Cinch Men's Wear will pay to ship it back  You have nothing to loose!  C ended up with a great outfit and extra shirt.  $89.99 is a great price for a complete outfit.   Mention my name "Erin Hamm" and save an additional $10.00 on your first outfit,  Just CLICK HERE to check out Cinch Men's Wear.
Do you love Giveaways?  Check out all my Giveaways HERE
Disclaimer: This box was received free for review,  My opinions are my own.  This post contains affiliate links.