April 29, 2014
04/29/14

By Subscription Box Mom

2 Comments
2
April 2014 Whimseybox – Save $5.00 – Craft Subscription Box
WhimseyBox is a craft subscription box that sends a complete craft, with all the supplies needed, for $15.00 a month. Every month, WhimseyBox sends project instructions, DIY supplies, a reusable storage box, and an original 5×7 original art print each month. WhimseyBox's slogan is "Stop pinning, start making".  I love Pinterest, but I am horrible at completing projects.  It takes so much time to plan a craft, take the kids to the store with me and then attempt the project.  WhimseyBox sends everything to me for only $15.00 a month.  There is even a coupon to save you $5.00 on your first box!
The Details:
Cost: $15.00 a month
Coupon: Click HERE and save $5.00 of your first box.
Shipping: Whimseybox is currently only available in the US and Canada.  Shipping is free to the US but there is a $5.00 shipping charge for Canada.
What's in the box? Whimseybox is THE destination for DIYers and crafters. We offer a $15 monthly subscription box that brings a fresh new DIY project to your door every month. Whimseybox.com contains hundreds of DIY projects for inspiration, and a blog full of DIY tips, techniques, trends and tutorials.
When does the box ship? Boxes ship at the END of each month. In general, if you subscribed on the 16th of the month or later your first box will be the following month. So, for example, your January 16th payment is for a February box.
When am I billed?  You are billed between the 4th-6th of the month.
How do I cancel? Monthly subscribers can cancel at anytime and there's never any silliness like cancellation fees. Simply log in to your account, navigate to "My Dashboard" then "Account" cancel your membership there before your next billing cycle.
Website: https://whimseybox.com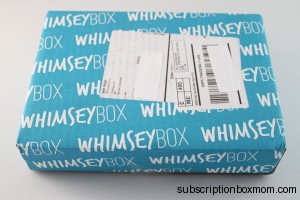 WhimseyBox ships buy USPS.  There is an outer cardboard wrapping, that protects the actual box.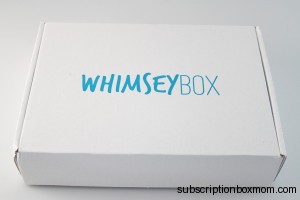 The inner box is a sturdy white box.  This box can be used to store craft supplies, after you finish your craft.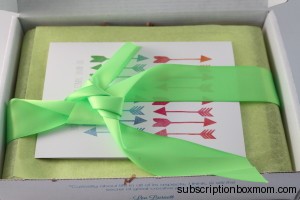 Whimseybox packages everything so neatly!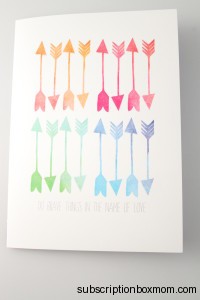 Every box included a 5 x 7 art card on the front of their instructions.  This card says "Do Brave Things In the Name Of Love".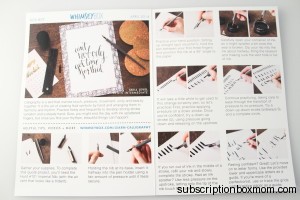 The project this month was Calligraphy,  I must admit, I am disappointed.  I have horrible handwriting, so doing artsy handwriting sounds impossible.  Whimseybox walks you through each step to practice. writing.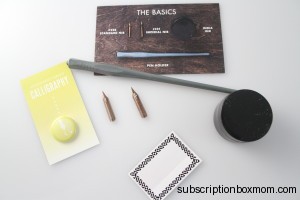 Whimseybox includes everything you need: standard nib, imperial nib, india ink, and a pen holder.  Whimseybox includes a button every month for the specified project.  There is also a label to write your name on, and attach to your finished piece.
Whimseybox includes a sample upper and lowercase alphabet, grid paper to practice and plan white paper.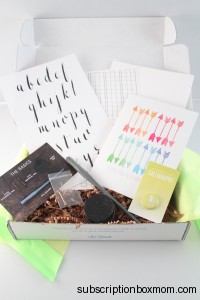 Final Thought:  I am a bit disappointed with this month's Whimseybox.  I hated handwriting class as a child, so practicing Calligraphy, doesn't sound fun.  I am going to set this project aside and try to tackle it when my schedule slows down.  Maybe I can make a simple sign for my house.  I generally really like my Whimseyboxes, this one just wasn't my taste.  SAVE.  You can save $5.00 on your first box by clicking HERE.
Do you love Giveaways?  Check out all my Giveaways HERE
Disclosure: This post contains referral links