April 18, 2014
04/18/14

By Subscription Box Mom

0 Comments
0
April 2014 Hamptons Lane – Southwestern Fiesta Box – $10.00 Coupon
This box contains referral links
Hampton Lane, who sent me this box to review, is a new subscription box for food lovers.  Hamptons Lane provides the food lover with the tools they need to enhance their culinary experience as chef, entertainer, and eater.  By carefully sourcing the best ingredients, kitchen tools, serveware, and local artisan foods they help chefs everywhere expand their culinary horizons – all for a great price.  One of the best things about this box, is the freedom to skip the month's you want.
The Details:
Cost: $45.00
Coupon:  Save $10.00 on your first box by clicking HERE.
What's in the box? Each month, their team of experts curates amazing kitchen products together with artisan foods & ingredients into a themed box, like the Must-Haves of Cucina Mexicana or The Best in BBQ.
Can I skip?  Yes, on the first of the month you will get a peek at that month's box and you can decide if you want the box, or if you want to skip.
Website: www.hamptonslane.com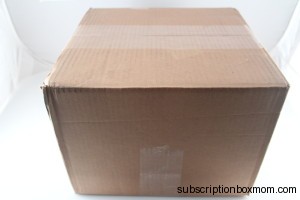 Hamptons Lane shipped in a big brown box.  The box was heavy and weighed over 10 pounds.
There were two big boxes in the box.  Everything was packaged very well.
Hamptons Lane includes a great information guide.  It is a full color 8×10 booklet.  It goes through each product and give additional tips and tricks.  There is also recipes to make guacamole and the perfect margarita!
Authentic Lava Rock Molcajete: $29.95  Inside the small brown box, was a malcajete.  This molcajete has been hand carved by artisans from the town of Comonfort in Guanajuato, Mexico that is famous for its creation of molcajetes. Artisans quarry for the volcanic rock and then carve each molcajete from an individual block, ensuring that each molcajete is unique. Each molcajete has three legs, which is believed to pay homage to the god of the hearth, Huehueteotl, who was associated with the number 3.
This is a beautiful piece that is not only useful in the kitchen, but a beautiful centerpiece on my kitchen table.  You have to cure it before use, but Hamptons Lane included all the instructions you need!
All the other goodies came in this cute blue box.  I was excited to see the products in the box.
La Fogata Fresh Roasted Salsa $10.00: I love great salsa.  It is my go to snack of choice.  Hamptons Lane says "the roasted tomatoes combine with chiles serranos to create a perfect flavor and consistency that is equally enjoyable on a chip or atop your favorite Tex-Mex cuisine."
Salt Traders Margarita Pink Salt Blend: $12.00: This was made with two qualities in mind: coarse enough to deliver a crunch but still dissolve almost instantly on the palate, and earthy, smoky flavors to complement those found in the finest tequilas.  I don't drink margaritas, but I am excited to try this out on some drinks for friends.
Melissa Guerra Taco Seasoning $5.00 est: Hamptons Lane teamed up with James Beard-nominated Melissa Guerra to create a special Hamptons Lane taco seasoning. She added dried onions to the chili pepper, garlic, and other spices for a more complex flavor that is super easy to use and puts an artisanal twist into your tacos. This tin of seasoning will have your taste buds salivating for many taco nights to come.
I love making tacos at home, so this will go to work right away!
Norpro Lime Juicer $8.00: I am so excited to have this.  This is great for southwestern dishes like guacamole, but can also be used for other dishes.  You can also use it to add some flavor to water.
Melissa Guerra Fajita Seasoning $5.00 est:  Melissa Guerra impressed Hamptons Lane with this seasoning, so I have to try it.  I haven't made fajitas at home yet,  Hamptons Lane also included some cooking tips!
Final Thought: The total value of this box $69.95.  This is a great value for a $45.00 box.  I love the Molcajete.  It will be a beautiful center piece to my table.  I love the idea of keeping some fresh fruit in it for my kids.  I am also excited to try to make my own guacamole with it.  I love the theme for this box.  I love southwestern food and am excited to try all the yummy foods in this box.  If you want to sign up for Hamptons Lane, click HERE and save $10.00 on your first box!
Do you love Giveaways? Click HERE to enter.
Disclaimer: This post contains referral/affiliate links.  I received this box free for review.  My opinions are my own.