April 25, 2014
04/25/14

By Subscription Box Mom

3 Comments
3
2014 April Taste Trunk – Discount – Gourmet Trunk – Food Subscription Box
Taste Trunk is a food subscription box. There are four different trunks: Healthy, Gourmet, BBQ, and Sweet. I have tried the BBQ  and Sweet Taste Trunks and both are fantastic!  Taste Trunk is $35.00 a month (plus shipping) but you can save 25% on your 1st trunk by using Boxmom25 in the promo code field and putting "Erin Hamm" in the special instructions area
The Details:
Cost: $35.00 a month
What's in the box? Each trunk includes 5-10 products, discount coupons, backgrounds on the companies and amazing recipe ideas.
Shipping: $3.99 a month
Coupon; Save 25% on your 1st trunk by using Boxmom25 in the promo code field and putting "Erin Hamm" in the special instructions area.
When am I billed?: 1st of the Month and each month automatically unless you cancel.
When do I get my box?: Around the 15th of the month
Website: WWW.TASTETRUNK.COM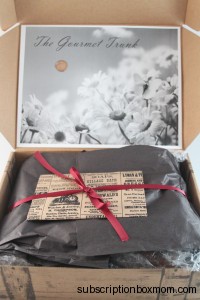 Terrapin Ridge Farms Mango Habanero Jam $8.00: This is made with mellow mangos and feisty habaneros.  Spread this gourmet jam on pork, chicken and fish before baking. Mix with a brick of cream cheese and serve with crackers for an enticing appetizer. 
New Canaan Farms Peach Jezebel $16.09: This is a great glaze for ham, turkey or pork chops.  You can also use this for stir fry dishes, broiled or baked chicken or fish or served over cream cheese with crackers.  
Sun Dried Tomato & Parmesan Crostini Spread: $8.50: This is a A Mediterranean inspired blend of sun dried tomatoes, Parmesan cheese, balsamic vinegar, capers, lemon, garlic and Italian herbs.  Is sounds really tasty and I can't wait to try it.
Saucy Mama Sweet Heat Marinade $6.00: This can create a tangy zesty glaze or dip for your favorite pork, beef, chicken and vegetable dishes.  This is made with black pepper and sweet hot chili.  It looked so good, I had to take a taste.  Let me tell you, this was amazing!!! It has a bit of a tang and is so sweet.  I love it and I am cooking with it tomorrow.
New Canaan Farms Jalapeno Dip  $1.93: This is supposed to be very hot dip.   I will have to try this at a party, as C doesn't eat hot things.
Torie & Howard Organic Hard Candy $4.99: I love Torie & Howard Candies.  These are blood orange and honey.  I received a large assortment in a sweet trunk and loved them.  I am happy to see them again.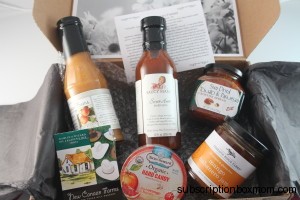 Final Thought: The total value of this month's box was $45.51!  This was a really great box.  I really want to use all the items in this month's box.  Tomorrow I am using the Saucy Mama on some chicken.  I could actually just eat the sauce from the bottle, it's that good.  If you want to try Taste Trunk, click HERE and use the code boxmom25 to save 25% on your first box!  You wiil also get a $10.00 credit when you create an account (I don't think you can use this together).
Do you love Giveaways?  Check out all my Giveaways HERE
Disclosure: This post contains referral links