March 11, 2014
03/11/14

By Subscription Box Mom

1 Comment
1
Wag Pac – Dog Subscription Box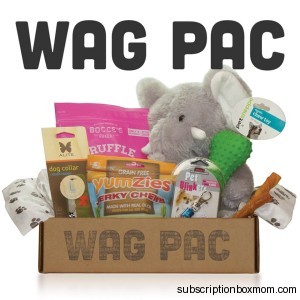 Wag Pac is a new dog subscription box, that sent me this box to review.  Wag Pac is $29.00 month to month and they send an assortment of treats, toys and other goodies for your dog.  When you sign up, you choose the size of your dog (small, medium or large).  One thing that really sparked my interest with Wag Pac, is they give 10% back to local shelters.  Wag Pack had several shelters to choose from, and I was able to find a shelter close to me.  There are over 3,000 shelters to choose from and you can change the shelter you support, anytime.  I have a large mixed breed collie, Dolby,  that helps me with my reviews.  He lives with my parents, where he has lots of room to play.
The Details:
Cost: $29.00 a month for month to month
          $24.00 a month for 3 month plan
          $19.00 a month for 6 month plan
What's in the box? In your Wag Pac, you will receive a selection of items for your dog that are hand-picked by the members of DogTime Media. Quality treats, toys, supplies, etc. will be in your box. We are dog and cat lovers and have an eye for what those furry ones would like. All treats are made in the USA.
When do you ship? Wag Pacs will ship out around the 25th of each month.
When do you bill?  You are billed when you place your order.  All plans are paid up front.
Website:  https://wagpac.dogtime.com/
Wag Pac came in a brown box with the Wac Pac logo on it.  Wag Pack ships by USPS.
The box was packed with goodies.  The inside of the lid had a paper letting me know the shelter I picked.  I am not revealing the name of the shelter, to protect my identity/where I live.  I was impressed with the amount of shelters close to me, that I could chose to give back to.
Kyjen PP01101 Octopus Junior Plush Dog Toys Squeak Toy, Small, Blue
 $4.86  This is a really cute toy, and the insides are made from recycled plastic jugs.  Dolby is getting older with age, so this went to a friend's dog.  The friend's dog really enjoyed this toy, and it seem sturdy.
Zukes Mini Naturals Treats $3.80: These are easily chewable and good for training.  These were chicken and cherry flavor.  Dolby was a bit skeptical of the treats at first.  Dolby is on medication that is hidden in treats.  Once he realized they were just treats, he enjoyed them.
Flush Puppies Doodie Bags $5.75: These waste disposal bags are certified compostable by the Biodegradable Products Institute and don't contain polyethylene plastic.  They are mother nature friendly and can be flushed down the toilet.  I love that these bag break down.  These are perfect for walks in the park.
Alite Collar/Leash $19.22:  This is a great and study leash.  This leash has a small compartment to hold treats or the doodie bags.
Blue Buffalo Treats  $8.49   These treats are gluten free and make a great treat.  These were Dolby's favorites and he couldn't get enough.
Pet Blinkers $6.99:  This clips on to your dog's color and blinks.  This is great for when you have to let your dog out at night for a potty break.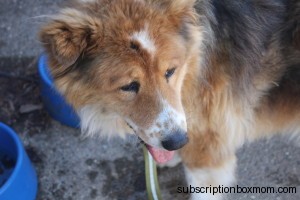 This is my happy Dolby sporting his new leash with a belly full of treats.
Final Thought: The total value of this box was $49.11.  The total cost of the box was $29.00 so this box was a great deal.  My favorite products from the box was the leash and the Blue Buffalo treats.  The Blue Buffalo treats were by far Dolby's favorite.  I loved the selection, value and the fact Wag Pac gives back to local shelters.  This is a great dog box with a high value.  If you are interested in trying Wag Pac for your dog, click HERE.
Do you love Giveaways?  Check out all my Giveaways HERE
Disclaimer: This post contains affiliate links.  This box was received free for review.  My opinions are my own.