March 17, 2014
03/17/14

By Subscription Box Mom

0 Comments
0
Reggie Box BFF Edition – Dog Subscription Box Review
Reggie Box, who sent me this box to review, is a new dog subscription box.  Reggie, otherwise known as Reginald Regington is a bright, fun loving adventurous pooch, whose mission, is to bring fun treats and toys to your furry companion.  Each box is filled with 4-6 toys and treats customized around the size of your dog.  You choose between small (0-20), medium (20-50), and large (50+).  Reggie Box also has a New BFF Edition Box that is sold exclusively through the American Kennel Club.  This is the subscription box review is of the BFF Edition Box.
The Details
Cost:   Month to Month $30.00
         3 Month Subscription $25.00/mo
         6 Month Subscription $22.00/mo
        12 Month Subscription $20.00/mo
BFF Edition Box: $40.00
What's in the box?  4-6 Toys and Treats customized for your dog based on his size.
When does the box ship?  Order by the end of the month and your box will ship by the 5th of the month.
Website: http://www.reggiebox.com/
New BFF Edition: http://www.akc.org/bffbox/
My parents dog Dolby, was my tester for this box.  He is a senior dog, who loves being outside.
The BFF Edition box comes in a really cute box, with Reggie on the top.
This box was jammed packed with goodies.  I couldn't wait to see what was inside.
There was a decorative information card, that had lots of information about each item in the box.  There was also a booklet that contained tips for caring for a dog.
Flap Jack Plush Toy  $7.99: Stuffing-free, plush squeaker. This is super soft and seems study to stand up to a rough playing.  I like that it isn't filled with stuffing, so your little pooch won't leave fluff everywhere.
 Incredibubbles $8.99 These bubbles are flavored and they land without popping. These are safe for dogs and kids!  I love that my kids can play with my dog with these bubbles.  We didn't try them out yet, because the directions recommend trying them when it's dry.  It has been wet and snowing here, so we will try these on a nice day.
Ryan's Barkery $8.50:  These were featured on the shark tank.  They have all natural ingredients and can be eaten by people too!   These only contain whole wheat flour, peanut butter, and applesauce,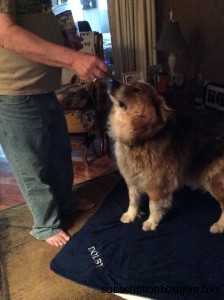 Dolby really enjoyed the Ryan;s Barkery treats and wanted as much as he could get.
AKC Fleece Blanket: $47.00:  This is a huge blanket (40×50).  It even had Dolby's name on it!  This is perfect for Dolby, for when it gets too cold outside.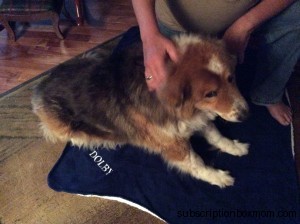 Megalast Bone: $5.24: Fill this bone with water, chicken broth, or any other liquid your dog would enjoy and put it into the freezer. This toy will keep your dog happy and occupied for hours. The best part is … it's BOUNCY!
This was the biggest hit of the box.  Dolby loved this the most.  It can be tricky to fill, so put it on the plate when filling and freezing.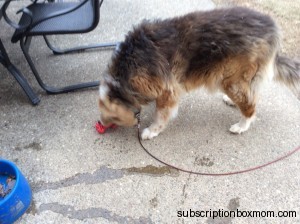 He took this all over the yard and loved chewing on it.
Final Thought: The total value of this box was $77.72 and it only costs $40.00  This was filled with great items.  The blanket itself is a nice big size and worth more than the box costs.  The Megalast bone was Dolby's favorite.  I like that the treats were all natural.  It is important for my parents to feed Dolby, good healthy food.  If you are interested in getting the BFF Edition, or sign up for a subscription, click HERE.
Do you love Giveaways?  Check out all my Giveaways HERE
Disclosure: This box was received free for review. My opinions are my own. This post contains affiliate links