March 9, 2014
03/09/14

By Subscription Box Mom

0 Comments
0
Popsugar Must Have Box March 2014 – $10.00 Discount – Women's Subscription Box Review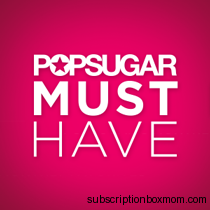 Popsugar is my favorite box I get for myself. It is $39.00 a month, but you can save $10.00 on your first box by clicking HERE and using the code BOX10.  I saw spoilers for the Popsugar Must Have Box March 2014, and I was excited to receive it, because I knew there was a scarf, that was worth more than the entire box.
The Details
Cost: Month to Month $39.95
         3 Months: $109.85
         6 Months: $214.70
       12 Months: $429.40
Shipping: Popsugar only ships to the United States
What's in the box? Every month, Lisa Sugar and her editorial staff will curate an exciting monthly box full of fun, must-have picks across fashion, beauty, home decor, fitness, and more, which we will deliver to your door. The monthly box targets women ages 18-40 and features full-size products and premium items including tried-and-true classics, celebrity favorites, and brands consumers have yet to discover. Your monthly subscription box will include products worth over $100. (Please note: The $100 value is based on the manufacturer's estimated MSRP at the time products are acquired by POPSUGAR. All prices are subject to change without notice.)
When do I get my box? Your POPSUGAR Must Have box will ship by the 15th of the month, or the following business day if the projected shipment date is a holiday, or as otherwise indicated in your account. Your account settings will initially display that your box is "processing" after you are billed. When your box ships out, the "processing" message on your account settings will update to reflect your tracking information.
When am I billed? You will be billed for your first month immediately upon placing your order for a monthly subscription. Please note that if your monthly subscription begins in a later month, you will still be billed at the time you place your first order. After the first month has completed, you will be billed when your next shipment is being processed (expected to occur in the beginning of each month, or as otherwise indicated in your account).
How do I cancel? In order to cancel your subscription, simply go to your Account Page, and under the "Subscriptions" tab, click "Manage Billing." On the "Billing" pop-up, please scroll to the bottom where you will find the text "You can cancel your subscription here." Please click the highlighted "here." You will be prompted to confirm whether or not you want to cancel. Please note, clicking "Cancel" will disable the auto-renewal feature on your account but will not affect your current order. For example, if you have a 3-month subscription, you will still receive all three boxes but no additional boxes. Also, any referral bonus boxes as noted on your account settings page will be placed on hold after you cancel your account, as you need to have an active subscription in order to receive any of your referral bonus boxes.
Popsugar arrived much earlier than I expected this month.  I am always happy to see it on my doorstep.
I also peek at spoilers, so I knew what was in the box.  This box was pretty light but it was filled with great stuff.
ActiveForever Fusion Exercise Ball $9.95: This is a 7.5″ ball designed for Pilates and isometrics.  This ball also comes with a straw to blow up the ball.  I was skeptical about the straw, but it's actually pretty easy.
Harvest Snaps Snapea Crisps $2.21: I hate peas, but these are good.  These are baked snacks in a pea pod shape.  They are made with pea pods and a little rice.  They don't have a strong pea taste, they taste like a puffy plain Cheetos to me.
 Jurique Herbal Recovery Advanced Serum 15 ml $27.00.  Popsugar sent another face serum last month.  I guess Popsugar wants us to be young and wrinkle free.  This promises to diminesh dullness, reduce fine lines, and increase hydration, all while protecting skin from everyday harshness.  If feels nice on my face, but this is something that has to be used for awhile, before seeing if it will work.
 Dogeared Lucky Horseshoe Make a Wish Necklace $31.00  You make a wish when you wear this necklace.  When the necklace breaks and falls off, your wish will come true!
Baublebar Elephant Ring Tree $12.00: This is a cute silver elephant that can hold your rings.  It is also good luck if the elephant points his trunk up, so hopefully this little guy brings me luck.
Brokedown Blue IKAT Scarf $72.00  This is a beautiful soft scarf.  It is pretty long, so I am going to look up some scarf tying videos.  I am new to wearing scarfs and need some extra tips.
 Special Extra: Nature's Bakery All Natural Strawberry Fig Bars: $1.00  This was a special extra in my box.  These are made with natural ingredients and are great post workout or they are great for breakfast.
 Final Thought:  This box had a total value of $155.15!  I paid $39.95 and I received a fantastic box.  Popsugar always has such great quality items in their boxes.  Even if you don't love everything in their boxes, you always get over a $100.00 in value, so the box pays for itself.  May items make great gifts for family and friends too!  If you want to sign up for Popsugar, click HERE and use the code Box10 to save $10.00 (Limit reached) REFER5 to save $5.00 on your first box.
Do you love Giveaways?  Click HERE to enter all my Giveaways.
Disclosure: This post contains affiliate links.