March 3, 2014
03/03/14

By Subscription Box Mom

0 Comments
0
Carnivore Club February 2014 – Discount
This post contains referral links
Carnivore Club sent me this box to review. Carnivore Club sends 4 to 6 different selections of cured and smoked meats, charcuterie and jerky from across the planet.  All the meat from Carnivore Club comes from independent farms in the Midwest.  It is $50.00 a month, but you can save $10.00 when you use the code "boxmom", on your first order.  Carnivore Club is also available in Canada.  
The Details:
Cost: $50.00 a month
Coupon: Use the code "boxmom" to save $10.00 on your first box.
What's in the box? Every month members of the Carnivore Club will receive 4 to 6 different selections of cured and smoked meats, charcuterie and jerky from across the planet
When does it ship?  Last week of the month
Website: United States: www.carnivoreclub.com 
Canada: www.carnivoreclub.ca
All the meats from this box, came form Alle-Pia.  You can find them HERE.
Carnivore Club ships USPS and comes shipped in a white mailing bag.  For this review, my husband helped me taste everything.  I currently have a cold, so my taste buds are not working.
 Finocchiona: This bold salami gets flavor from traditional Chianti wine from Italy, crushed fennel seeds and black pepper.   My husband really liked this and said it had a "rich meaty taste".  He said this would make a great sandwich.
 Tartufo: This is made with black summer truffles and is considered a treat for special occasions.  My husband thought this had a rich flavor with a taste of mushrooms.
 Cacciatorino: This salami's fresh flavor comes from juniper berries and Chianti wine from Italy. It has a lighter taste than the other varieties.  Salami Cacciatore translates into "hunter's salami." It got this name because it is formed into small pieces about six or seven inches long, making them a simple and portable snack easily carried in a hunter's shoulder bag. Aromatic juniper berries impart a clear, refreshing flavor.  My husband thought this had a nice flavor, so I tried it.  I thought it had a very nice mild flavor.  I actually ate quite a bit of this.  This would be great with some cheese and crackers.
"Nduja: Salami in a jar! Alle-Pia Sopressa salami mixed with sundried tomatoes, extra virgin olive oil, red chile peppers and garlic in an easy to use spread.  Makes an excellent topping for crackers as an appetizer or light lunch. Add to sauces, soups, or spread as pizza sauce for a boost of authentic Italian flavor. My husband said this was too spicy for his tastes.  He would prefer fewer red peppers.
Pancetta Tesa: This is naturally curred pork belly.  This can be enjoyed sliced thin for appetizers or be cooked to create classic Italian pasta dishes.  I couldn't wait to try this, so we just cooked some up tonight.  I loved the flavor and would eat this with some eggs for breakfast.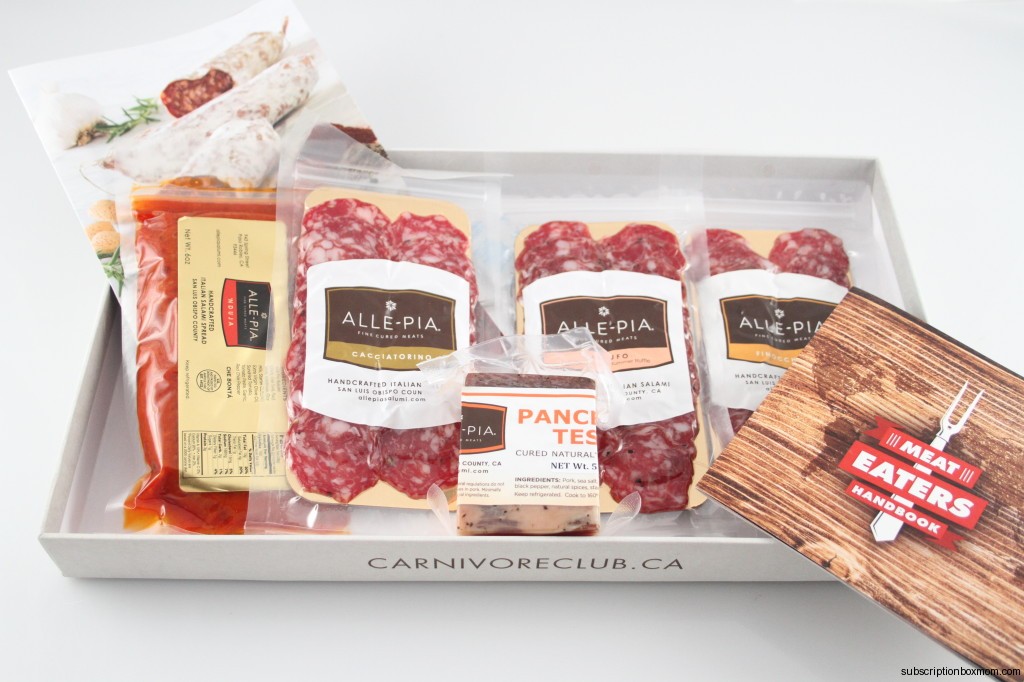 Final Thought: Carnivore Club is such a unique subscription box.  My husband liked the Finocchiona the best.  I loved the Pancetta Tesa and the Cacciatorino the best.  If you like trying unique cured and smoked meats, check out Carnivore Club.  Use the coupon boxmom to save $10.00 on your first box.  Just click HERE to go to Carnivore Club.
Check out my current giveaways 
HERE
Disclosure: This post contains referral links.  I received the box free for review.  My opinions are my own.