February 4, 2014
02/04/14

By Subscription Box Mom

4 Comments
4
ThreadLab Review – $15.00 Credit – Giveaway – Men's Clothing Subscription Box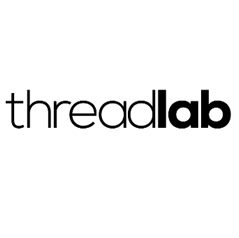 ThreadLab is a new clothing subscription box for men!  My husband only gets one subscription box, so I jumped on the chance to try out this box.  ThreadLab is not a personal stylist. ThreadLab focuses on essential staples, convenience and fit.  You fill out a profile and then ThreadLab sends a box full of clothes.  The average price per item is $50.00, which is really affordable for this kind of service.
ThreadLab  has free shipping both ways when you keep at least one item.  You can try ThreadLab free, but if you don't keep anything, you will have to pay the shipping fees.  When you sign up, you give your height, weight, shirt size, shirt fit, waist size, inseam, sleeve inches, neck inches.  The part that excited me the most, was that ThreadLab featured sizes for my husband.  C is 6'5 and has to wear 38 length in jeans.  Those are super hard to find.
Here is how it works:
1.) Free Sign Up. Provide your Profile Data: sizing, spending, and billing information.
​
2.) Place Order. Select the items you would like in your shipment, for example: jeans, button down shirts, t-shirts, etc. We offer you an easy way to tell us what you need with our "Place Order" link. We bill a $100 deposit to your credit card or PayPal account. We ship within 5 – 8 business days.
​
3.) Products. We send you items based on the product categories you select when you place an order. Your sign up data drives the decisions on sizing, pricing, and general style.
​
4.) Shipment Arrives. YES. ThreadLab box is delivered to your door – shipping is 100% free as long as you keep at least one item. Please provide feedback- once we learn more about how the items fit, we can better tailor your subsequent shipments. Earn 15% off when you keep all items in a shipment.
​
4.) Decision Time. We give you 20 days to decide. UPS label included. Upon receipt of the returned box, we charge you the balance if you kept more than $100 or refund you the difference if you kept less than $100. If you return all items, we'll refund all but the shipping costs.
​
5.) Your Schedule. The process repeats based on the "frequency" you selected upon sign up. We send a "Needs List" email alert 14 days before every shipment. Select what you need in the next shipment. Or reply "Skip" if you don't need the next shipment. Or click on "Place Order" on our site to place an order on demand.
The Details: 
Cost: Free but if you don't keep an item, you must pay shipping.  You will be charged $100.00 when you sign up.  This is a deposit and will be refunded for what you don't use (either from shipping costs or if you buy an item).  If you keep everything in your box, you get 15 percent off.
Coupon:  Put "SubBoxMom1" in the referral box.  You will get $15.00 in credit for My Thread Labs.
What will I get?  ThreadLab  will send you items based on the product categories you select when you place an order. Your sign up data drives the decisions on sizing, pricing, and general style.  On average, you get 6-7 items with a total retail value of about $275.00
How long do I have to return the box?  30 Days.  The return date will be on your invoice.  You are also given a return shipping label.  Just drop it off to UPS.
Website: http://www.mythreadlab.com/
The box shipped by UPS and the box has the TL branding on the side.  The box was taped up with decorative tape that said "don't shop".  Most men don't like shopping for clothes, so I thought the tape was very true.
There were two sheets included in the box.  The first is an invoice of all the items and their cost.  C was sent 12 items.  The second sheet lists all the items and you say if the sizing is big/small, Fit is tight/baggy, and color is me/not me.  There is also a comment section to write notes.  At the bottom you can also list general feedback/exchanges.  You can list the sizes and the item you want in a different size! ThreadLab also included a bottle opener!
Note: All clothing will be listed left to right.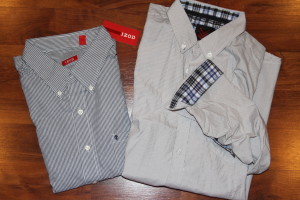 Izod Essential Checkered Shirt $45.00:  This is an attractive collared shirt, but it is far too pretty for C.
191 Unlimited Skylight Slim Fit Shirt $30.00:  C really liked this shirt at first glance, but it has a trendy cuffed sleeve that can be buttoned for a 3/4 length.  This is far to trendy of a style for C.  He is a basic jeans and t-shirt kind of guy.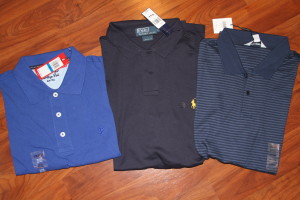 Izod Oxford Pique Polo $45.00: C liked blue, but didn't like this shirt because of the buttons.
Polo RL Classic Custom Fit $60.00 C really wanted a Ralph Lauren shirt, but he didn't like that the cuffs around the sleeves were a little snug.
Calvin Klein SS FIne Multi Stripe Polo $48.00:  C didn't like the stripes were so close together.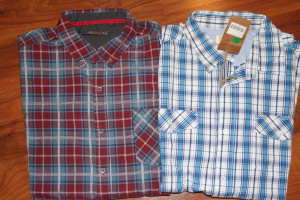 191 Unlimited Traffic Jam Slim Fit $35.00:  I actually didn't think I would ever see C wear plaid, much less plaid with red in it.  C actually really liked this and is keeping it.
PD & C Authentic Apparel $35.00 C really loved this shirt, the sleeves were a bit too short.  C has really long arms and legs.
IZOD relaxed fit dark vintage $75.00 C loved these jeans, but they were a bit too baggy.  The waist was bigger than his normal size.  It did give C hope, that there are trendy looking jeans for tall men.
Levi's Original Fit 501 $64.00: These had a button fly, so they were a no go for C.
IZOD Relaxed FIt Dark Jean $75.00:  I had to push C to try these on.  He didn't like the color and thought they would be too short.  They actually were the right length, but they were too big.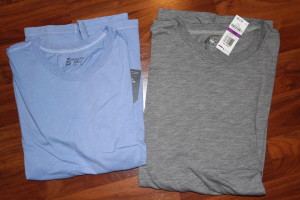 Wallin & Bros Crewneck T Shirt $20.00: C loved this and is keeping it.
Club Room Short Sleeve Heather T Shirt: C loved this but it was a size bigger than what he usually wears and so it didn't work.
Final Thought: Overall C really liked this box and the experience.  He wishes the sizes would have been better, but I am sure this will get better with time.  The plaid shirt he kept was a size bigger than his profile, and it fit, so it was good there were different sizes.  I am hoping C finds a pair of cool jeans in a future box!  I love how much customer feedback you can give about your box.  ThreadLab says they use the feedback, to make you next box even better! ThreadLab is a great way for men to find new affordable pieces of clothing, without leaving their home!  To sign up for ThreadLab, click HERE and put "SubBoxMom1" in the referral field and you will get a $15.00 credit.
Giveaway:  If you decide to try ThreadLab and sign up for a box, you can win a $75.00 or $50.00 gift card to ThreadLab!  When you sign up, put "SubBoxMom1" in the referral code field.  You also must follow ThreadLab on Facebook https://www.facebook.com/mythreadlab and Twitter https://twitter.com/mythreadlab, to be eligible to win.
Disclosure: This post contains referral links.