February 5, 2014
02/05/14

By Subscription Box Mom

0 Comments
0
HeroDogBox Review and Discount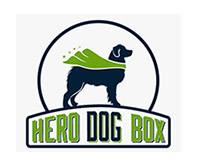 HeroDogBox, who sent me this box to review, is a subscription box devoted to dogs.  HeroDogBox is $29.00 a month, but you can pay as little as $19.00 a month with a 6 month plan.  HeroDogBog makes boxes for every size dog.  When you sign up, you choose between a small, medium and large size dog.  Hero Dog Box also gives back.  Every month, Hero Dog Box picks a dog in a shelter/rescue, and proceeds from the box, go to that dog.  I have said it before, but I love companies who give back, especially to animals.
The Details:
Cost: 1 month-$29.00/month, 3 months-$24.00/month, 6 months-$19.00/month
Coupon: Use the code SubscriptionBoxMom to save $5.00 on your order
What's in the box? 4-5+ Healthy treats, fun toys, and quality products
When am I billed?  You will be billed for your full plan immediately upon signup. Your plan will automatically renew (unless you decide to cancel prior to renewal) and your renewal billing will occur on the 3rd of the month following the last delivery of your current plan
When does the box ship? If you ordered your HeroDogBox before the cutoff date (10th of each month) your HeroDogBox will be mailed out on the 20th of the month. If you ordered after the 10th of the month your box will be shipped the following month. Depending on your location, you can expect to receive your box within 5 to 10 days after shipment.
How do I cancel?  email support@herodogbox.com with your full name
I was sent the medium dog box to review
This month, HeroDogBox is sponsoring Lolli at Aussie Rescue of San Diego.  Aussie Rescue of San Diego places dogs in need into a home environment until they are adopted.  They also provide medical care as needed.  Lolli is a beautiful 2 year old Cattle Dog/Aussie Mix looking for her forever home.  She is very smart, friendly and cuddly.  In fact, her nickname is Lolli-canoodles, because she loves to give kisses and cuddle.  You can learn more at www.facebook.com/aussierescue.  The back of the card had information about each brand in the box.
Poop Bags 120 ct ($8.40) PoopBags ECO-ECO on a Roll are both ECO-nomical and ECO-friendly. Containing 30% post-consumer material, these bags are blended with a proprietary additive that allows them to disappear into the Earth naturally and earn three national certifications for biodegradability. If you're looking to be a responsible, and eco-friendly pet owner, but want a good value, PoopBags ECO-ECO on a Roll are the bags for you. They also fit the dispensers that attach to leash handles, so you'll never go out without bags.
These are easy to take out and use.  These didn't come with a holder, but I have a holder from a previous box.  You can also use these put your child's dirty diapers in, when you are out and about.  Herodogbox included a coupon for $5.00 off an annual supply.
Woofables Gourmet Dog Bakery Cheese Its Wheat Free ($12.99 for lb) $4.00 est value.These are made with cheese, cornmeal, oat flour, oats, and canola oil.  They took the popular Cheez It recipe and made it for dogs!
Dog and Bone doggie treatery Apple Cinnamon 4oz ($6.95) These are apple cinnamon flavor and are free from artificial colors, flavors. and preservatives.  They are also made into little dog bone shapes
Planet Dog Orbee Tuff Orbee Medium ($13.95) This has been called the "World's Best Dog Ball" by industry experts. This is also rated 5 out of 5 chompers on the Durability Scale.  It has a minty smell, it floats, and is recyclable.  It is also 100% guaranteed.  Also, 2% of every Planet Dog purchase is donated to the Planet Dog Foundation.  The foundation funds the training the training, placement and support of canine service dogs.  Herodogbox also included a 20% off code for their online shop.
Grandma Bowser's Country Oven Biscuits Peanut Butter Flavor ($4.44 plus shipping): These  gourmet dog biscuits are made from 100% human-grade ingredients and baked in our licensed human-grade bakery in Pennsylvania.  These are filled with vitamins and preservative free.  They are also wheat free, corn free, and soy free.  These are also peanut butter flavored.
Final Thought: The total value of this box was around $37.74.  I had to estimate for the Woofables, since the bag was smaller than a pound.  I really enjoyed this box because it was filled with many different brands, including small independent companies.  I love finding new treats for animals that are free from harmful chemicals.  You can try HeroDogBox for $29.00 and use the code SubscriptionBoxMom to save $5.00 on your order; just click HERE.
Disclosure: This post contains affiliate links.  I received this box free for review.  My opinions are my own.  I was not compensated in any other way,