February 10, 2014
02/10/14

By Subscription Box Mom

4 Comments
4
Groovy Lab in a Box Review and 3 Month Giveaway
Groovy Lab in a Box, who sent me this box to review, is a new subscription box that brings everything you need, to learn about and do hands on science, technology, engineering, and mathematics (STEM) experiments for ages 8+.  This is not a science kit.  It is a full experience of scientific inquiry and engineering design process to create fun inventions.  This box was the December Lunar Launch Box.  Groovy Lab in a Box is a product of Academics in a Box inc.
I had the pleasure of speak with one of Einstein in a Box's founders, Elaine, her partner is Monica.  It was refreshing to speak with someone with such a passion for STEM.  Elaine and Monica both have extensive experience with STEM and simply love sharing knowledge with others.  Groovy Lab in a Box uses the Next Generation of Science Standards when creating their box.  Groovy Lab in a Box takes children beyond completion of step by step instructions.  Children are encouraged to design, think, hypothesize and experiment.  Are you excited yet?
The Details
Cost: $26.95 a month. $25.95 a month/3 Months. $24.95 a month/6 Months, $23.95 a month/12 months.
What's in the box? "Groovy Lab in a Box  is full of everything a child needs to learn about and do hands on science, technology, engineering, and mathematics (STEM) experiments. Our monthly box activates thinking, questioning, inquiring, and original creation as we guide children through "SCIENTIFIC INQUIRY & the ENGINEERING DESIGN PROCESS." It's probably something a little bit different from other experiments experienced in the past. Each month features all the supplies needed to complete activities, experiments, and design challenges outlined in our custom, subject specific lab notebook along with FUN web based learning in "Beyond…in a Box" found on our website."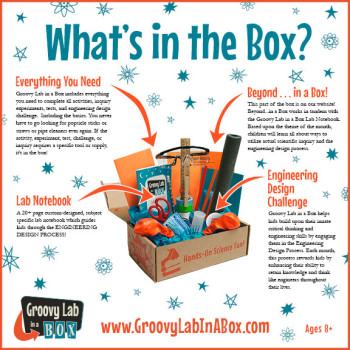 When am I billed? 15th of the month.
When does the box ship? 25th of the month
How do I cancel? Email support@AcademicsinaBox.com
Customer support: 1-888-938-3848
Website: https://www.academicsinabox.com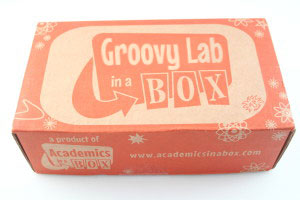 I love Groovy Lab in a Box's box.  It has such fun vintage colors.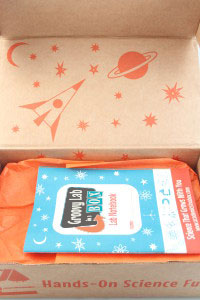 Seriously, how fun and inviting!  I couldn't wait to dig in.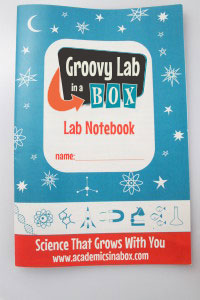 This is a 22 page lab notebook to help guide through child through the design and engineering process.
Everything you need is included in the box, down to the scissors!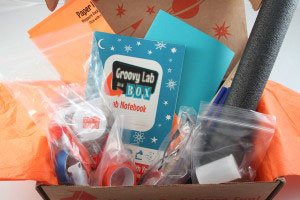 The lab book and computer section "Beyond….in a Box" take your child through the rocket engineering design process.  This is a section in the lab book and many many videos in the Beyond….in a Box section that explains the investigation process.  There is an activity that explains how potential energy is converted into kinetic energy.  Groovy Lab in a Box explains the steps to take but asks questions along the way, so your child has to think about what is happening.
Investigate: Balloon Rockets
This project  gets your child started on thinking about scientific inquiry related to Isaac Newton's Law of motion. If you go online to Beyond in a Box, you can get information about how to organize how multiple kids (*or family members) can participate. Starting out you have a few "scientific Inquiries" to get you thinking about what you are doing. After the initial test runs it allows you to push the limits and try out new designs.
Investigate: Paper Rockets
This project continues to explore rocketry with a paper rocket. This one comes with some fins that you can cut out to fit on your rocket. The fins help to stabilize the rocket when in fight. The instructions go through the setup step by step. Again you can setup different fin designs and measure your success or failure of design which is both a great learning experience.
Investigate: Foam Rockets
This project combines the self propulsion learned and the fin design to build a great foam rocket. This rocket is powered a rubber band and stabilized by your fins. Our fins were a little small but seemed to work nicely.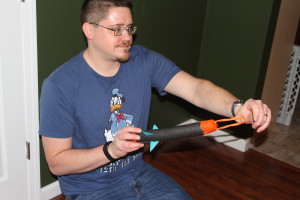 Note: I was a safe distance away during the launch (the camera was zoomed in)
 Final Challenge
The final challenge is to design, make and launch your own rocket.  All of the previous challenges lead your child up this last challenge.  Groovy Lab in a Box  included the canister and antacid to propel the rocket up.  The rocket must have a body tube, and fins that don't block the canister.  It has to be between 20-30 cm long and weigh 1lb or less. I wasn't able to this challenge, as there have been several inches of snow and sub zero temperatures.  We are working on our design and hope to launch when it is a bit warmer.
Final Thought:  This is an amazing box that will help your child think scientifically, design, engineer and just have fun.  They will learn all the skill that you want them to learn in school, only Groovy Lab in a Box  makes it fun.  L is too young for this box (he is 4), but my husband had a blast with this.  This is something the whole family could work on together, or a child and their friends.  If you want to sign up for Groovy Lab in a Box , click HERE.  Don't leave yet!  Groovy Lab in a Box  is giving one reader a three month giveaway!  Just enter below for a chance to win.
Here are the United Box Bloggers