February 18, 2014
02/18/14

By Subscription Box Mom

0 Comments
0
GlobeIn Review – Artisan Subscription Box
GlobeIn, who sent me this box to review, sends unique artisan crafts from all over the world, to your door every month.  Subscriptions are $29.99, and each box contains up to 3 specially handcrafted items from around the world and the stories of the artists who made the pieces. All at a cost that's less than if you bought the items individually.  Each artisan sets their own prices and GlobeIn doesn't take a commission.  GlobeIn also gives back 10% back into the country of origin.  When you subscribe you choose between jewelry, decor, or home accessories as your box theme.  I love handmade artisan products and I was really excited to see what GlobeIn was all about.
The Details:
Cost: $29.99 month to month
What's in the box? Each box contains up to 3 specially handcrafted items from around the world and the stories of the artists who made the pieces.
Can I switch themes?  Yes, You can change your theme every month if you'd like, or select The Best & The Brightest theme and you'll automatically get a newly themed box each month.
How do I cancel? Just send an email to support@globein.com.
Website: www,globein.com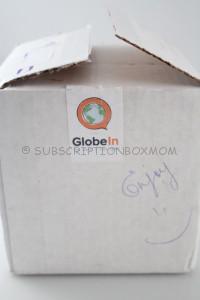 The GlobeIn box came in a little white box with a GlobeIn sticker on it.
Right on the inside of the box, there was a stack of cards, featuring all the artists in the box.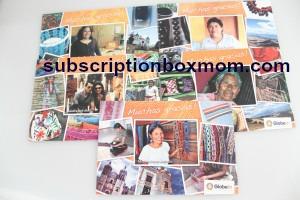 There were 5 cards in the box, each featuring a different Artisan.  Each cards described about each Artisan's craft, their years of experience, background, where they learned their craft, their inspiration and their aspiration.  I love knowing where my items come from and the cards really gave me a look into each Artisan's craft.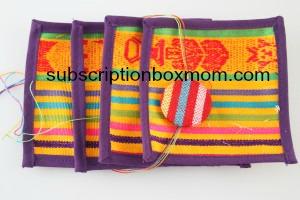 Sanda and Abel Coasters: Sanda and Abel wanted to support their family on their farm, so they founded Casi Otomi (House of Embroidery).  It is now well established in Oaxaca's craft scene. thanks to its unique fusion of traditional and contemporary designs.  These coasters are beautiful, and they were all tied together with a beautiful button.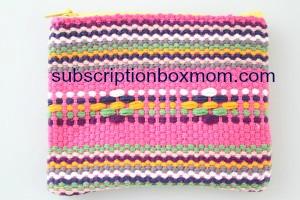 Marina Lopez Antonio change purse: Marina uses a simple backstrap loom to create beautiful patterns with yarn.  This is a cute little change purse.  I am using it in my purse now, because I am constantly dropping change.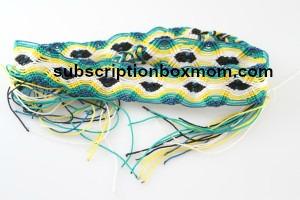 Marina Lopez Antonio Belt:  This is another beautiful piece by Marina, and my favorite.  This belt and the pattern is exquisite.  I can't imagine creating this simple piece, much less on a simple loom.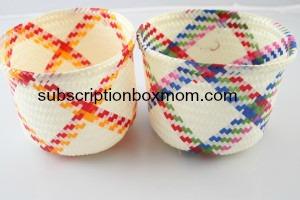 Profina and Margarita baskets: Profina and Margarita are the martriarchal members of Oaxaca's pertate basket-weaving community.  When they grew up, basket weaving was necessary, in order to create utilitarian housewares like bedrolls.  Margarita is the eldest master of the community.  Her eyesight is failing but her hands "know the way" and can create these beautiful baskets.  These baskets are made with real palm leaves.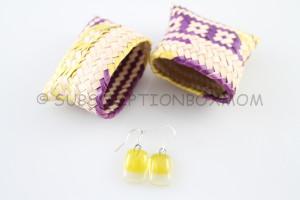 Profina and Margarita Pouch: This is another beautiful piece by Profina and Margarita.  This can be used to hold a very special piece of jewelry, used as a way to wrap a gift or hold other small treasures.  This pouch is also made with palm leaves.
Pauline Sanchez Hernandez Earrings:  Pauline went to art school and has been working with glass art for the past 10 years.  Her earrings are all hand made from glass.  I love the earrings and thing they are just beautiful.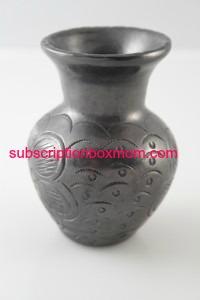 Doña Estela Cardozo Castillo Vase:  If I didn't know they was handmade, I would have thought it was mass produced. (that is a complement)  This vase is perfect and has such intricate details.  This is my favorite piece of the box.  Estella Cardoza learned the craft of black clay, after returning home from 40 years working in a factory.  Her specialty is creating colorful necklaces in collaboration with 1080 degrees Ceramics.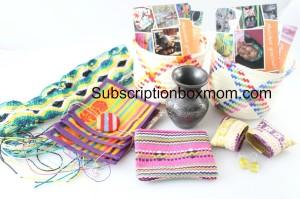 Final Thought: This box is simply amazing!  This is one of my favorite subscription boxes I have received.  The box was filled with 8 items (counting the baskets as 1 item).  I loved learning about each artisan.  The story of Margarita really touched and amazed me, that after all these years, poor sight doesn't keep her from creating beautiful baskets.  The vase is exquisite with all it's details.  This box is well worth the $29.99.  I would actually pay for for this box.  If you are interested in signing up, click HERE.
Do you love Giveaways?  Check out all my Giveaways HERE
Disclosure: I received this box free for review.  I was not compensated in any other way.  My opinions are my own.