January 19, 2014
01/19/14

By Subscription Box Mom

4 Comments
4
Stork Stack January Review and $10.00 Discount
Stork Stack had shipping delays this month, so I didn't get my box till the middle of the month.  Normally, Stork Stack ships the first of the month.  This month, Stork Stack partnered with a new company A Harvest Company.  Harvest products are made from natural & recycled materials like rice hulls, wheat straw, wood, potatoes, corn, wheat, soy, bee's wax, bamboo, cotton & cardboard.  This box was for a 22 month old boy.
To connect to individual websites for each product, just click the picture.
 All of Stork Stacks information cards are not sent by email with your tracking number.
From A Harvest Company "The unique design allows for shape recognition and a natural grasping area is great for the little one learning to crawl and walk. The bodies are partially painted with NO VOC organic paint and coated with several coats of a NO VOC clear finish for a long durable life."
I like this car.  It is made for 0+ but T will play with it.  It is a simple design and is a nice classic toy.  T rolled this around the living room a bit, and seemed to enjoy it.
From A Harvest Company "Each of the keys are made from reclaimed wood, chips captured from the logging industry pressed into boards, organically colored throughout and coated with a NO VOC finish for a long durable life. The "C" ring is made from a reclaimed potato bio-polymer that adds another teething surface that provides harder resistance for cutting teeth. The exclusive "C" ring also allow the tater tie to be attached to diaper bags, strollers and the like. The "C" ring can be slipped comfortably over baby's wrist, making a loyal pal who won't end up on the floor."
I am really disappointed in this product.  The product itself is fine, but I feel it is much too young for a 22 month old.  T doesn't use rattles or teethers anymore.  I showed this to T, but he had no interest in it.  This is rated for 6 months plus.
From A Harvest Company " Naturally antibacterial these blocks are made of all natural cork sustainably harvested exclusively for Harvest, these blocks do not contain any chemicals or coatings. Both the square and triangle sets are adorned with a simple hand stamped natural decoration and are just waiting for a child to love them!"
I like these blocks, although we have gotten a couple of stackers from Stork Stack in the last few months.  These are basic toys that can be used for lots of things.  T liked playing with these and likes to put them in boxes and pots.  They are made of cork, and are kinda soft.  I am concerned about safety, if he takes a bite.  These seem like they could be a choking hazard.  They are rated for 6 month plus.
I like Child's Play books because they are nice a sturdy.  This has bendable pages, but they seem resistant to tearing.
This is a mom gift.  I like Kind bars.  They have a salt crunchy flavor, without being terrible for your diet.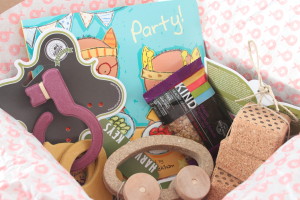 Final Thought:  Overall, I was disappointed this month.  All of the toys were for 0+ or 6 months +.  I felt the box was too young for T.  T liked the blocks the best, but I am concerned about safety.  They are made of cork, and one bite could be a chocking hazard.  I question what kind of safety tests these toys, specifically the blocks go through.  T had no interest in the keys, and I feel they are way to young.  The wheaties car is cool and a nice toy.  What do you think of this month's box?  I am not sure if I will continue with Stork Stack.  What are your thoughts?
If you want to sign up for Stork Stack, click HERE and use the code EA4827B9 to save $10.00 on your first stack.  You will pay $17,99 for your first box.
Disclosure: This post contains affiliate links.