January 13, 2014
01/13/14

By Subscription Box Mom

8 Comments
8
Peach Dish Review-New and Improved
Peach Dish has been making some big changes to their food subscription, so when they offered me a box to review, I was excited to try them again.  Peach Dish now sends two meals a week for $50.00, or two, 4 person meals for $90.00.  Peach Dish kindly sent me two, 4 person meals to review.  I have a family of four, so this worked out great.  I was anxious to see how everything would ship, since that was a concern in my September 2013 review.
The Details:
Cost: 2 Person Plan: You pay $50.00 a week for 2 meals for 2 people.  That is $12.50 a plate.
4 Person Plan: You pay $90.00 a week for 2 meals for 4 people.
Coupon: Use the code coupon13 to save 50% off your first week
When do boxes ship? Boxes ship on Tuesday from Atlanta, Ga and arrive Wednesday or Thursday
How am I billed? Billing is done through Amazon.
What is my meal is damaged or wrong? Your next meal is on Peach Dish
Website: http://www.peachdish.com/
Peach Dish ships their meals in boxes with their log on it.  They look very professional.  The boxes were shipped by two day UPS.  All regular meals are sent by USPS.
Meal 1: Warm Farro Salad, Spice-Rubbed Flat Iron Steak with Roasted Cauliflower.  There was also seasonal fruit.
The recipe/information card has changed.  It used to be a much bigger card (8×10), but now it is a much smaller card (approx 5×7)  I like the smaller card, because I have a small kitchen.  This is much easier to find room for this card when I am cooking
The Meal: Warm Farro Salad, Spice-Rubbed Flat Iron Steak with Roasted Cauliflower.  There was a also seasonal fruit.
The pictures looked tasty, but I am a picky eater, and didn't know how it would really taste.  The directions were clearly written and I didn't run into any mistakes.
This is my first look upon opening the box.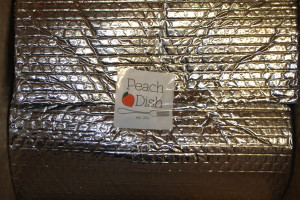 Everything was sealed with a Peach Dish sticker
This is the first look inside the box.  The main ingredients of the box were in cloth drawstring bags.  All the meat was packaged separate.  I was pleased to see nothing had leaked in the box and everything was cold.
This is the produce from box 1.  Everything was packaged well, and nothing leaked.  The produce was fresh and ripe.
Since I received two boxes, I received double of all the ingredients.
I was most concerned with how the meat would be packaged and shipped.  I am very particular of how cold my food is kept.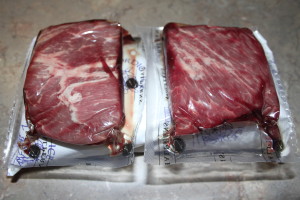 The steaks were ice cold and each pair of steaks were in insulated bags with a huge ice pack.  Everything was frozen.
The Meal!  The food turned out great.  I didn't take a picture of the cooking process, but I was focusing on not burning anything.  There was so much food.  There was enough cauliflower with one head for our family.  We still have half the Farro Salad and a head of cauliflower left.  We have two small children, so Peach Dish gave more than enough food for 4 adults.  The steak was amazing and everyone ate all their steak.  It was a fantastic meal.
Meal 2: Cheesy Ciabatta Bread, Chicken & Wild Rice Soup and Chocolate Mug Cake & Clementines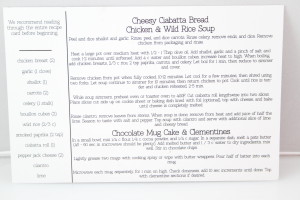 After how well the first meal went, I was really excited to make the second meal.  I don't normally enjoy cooking, but I enjoyed making this meal.  It was fun chopping up all the ingredients.  I can honestly say the recipe was really easy to follow.  The mug cake was just cake in a mug, you can't get much easier.
I received double the ingredients, since I received two boxes.  I just doubled the recipe to make the soup.
I tried to make them look a bit fancy.  There was so much soup.  C and I each had two bowls, the boys each had some and there is still enough for lunch tomorrow.
I didn't give T a fancy bowl (he is 22 months), but T loved his food.  I was a cool mommy and let him feed himself.  It turned out quite messy but so cute.
The soup was amazing.  I don't generally like soup.  I actually like only four different soups, counting this one.  I will be adding this to my recipe box
The chocolate Mug Cake was really easy to make.  You mix the dry ingredients, melt the butter, add water and pour into cups.  I headed each for 1 min and done!
Final Thought: I was really impressed with Peach Dish.  The food was packaged safely, the food was ripe and fresh, and the meals were fantastic.  Both meals were so delicious, I want to have Peach Dish weekly now.  I loved that Peach Dish pushed me out of my comfort zone.  If I saw the recipes in a magazine, I would never had made them.  Since the meals came to me, I was encouraged to try them, and found new meals to make in the future.  Peach Dish has truly impressed me and I would recommend them to anyone.  Their changes have been noticed and appreciated.  If you want to try Peach Dish, go to http://www.peachdish.com/.
Disclosure: I received this box free for review.  All opinions are my own and I was not compensated in any way.