January 27, 2014
01/27/14

By Subscription Box Mom

0 Comments
0
Kiwi Crate Handmade Valentines
Kiwi Crate has a special crate for Valentine's Day.  We always buy store bought cards, but I thought it would be fun to make our own this year.  The KiwI Crate Handmade Valentine's Crate comes with the following: 24 pop-up cards, 24 Valentine-themed punchouts, glue stick, set of 10 washable markers, wiggly eyes, sticky-back jewels, plus 2 blank cards to create a DIY pop-up card design.  This special crate is $14.95.
The Valentine's crate comes in this cute little red crate.
There was so much stuff packed in that little box.  There were 24 Valentines to make, punch outs, stickers,, markers, a glue stick and and instructions.
This crate is low on the messiness and low on the parental involvement.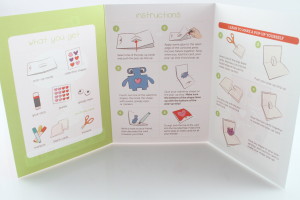 The instructions were easy to read and follow.  L had a bit of trouble popping up the card correctly, so I helped him with that part.  The rest of the gluing and creating was easy for him.  L created 24 Valentines right before dinner.
Final Thought: The Kiwi Crate Handmade Valentines are super fun.  They make really unique Valentines.  L and I completed them in a short time before dinner.  L loved sticking on the stickers and gluing everything together.  Other than me helping pop up the card, L did everything on his own.  If you want to get the Valentine's kit, click HERE, it is $14.95.
Disclosure: This post contains affiliate links.