August 20, 2014
08/20/14

By Subscription Box Mom

0 Comments
0
My First Book Series by Sophie Helenek + Special Deal
My First Book Series was developed by Sophie Helenek.  Sophie's daughter was her inspiration for writing this series.  After seeing her daughter's reaction to a M.C Escher book, she started researching baby's cognitive development.  Sophie wanted to create a series of books that would stimulate a baby's cognitive development, and would grown with them into their toddler years.
Each book is designed to stimulate babies and toddlers of different developments.  Youngest babies will be drawn to the black and white illustrations and the high contrast patterns.  Once baby starts to see colors, they will start remembering pictures and words.  Each page has a picture and one word, this simple design lets baby learn to memorize the book.  At the end of the book, all the objects are together on one page, which also helps baby learn and memorize.  Recently,  My First Book Shapes, Fruits and Musical Instruments won the Mom's Choice Award Gold Seal.  You can read more about it HERE.
One thing I love about this books, is how sturdy they are.  I have two boys 5 and under and my 2 year old T, has the nickname "tiny tornado".  This books are built to be very sturdy.  You (aka your toddler) can also write on them with dry erase markers, because they will wipe clean.
Reading to my children is very important to me.  I have been reading to my children, since before they were born.  Reading to your children helps promote listening skills, increases the baby's exposure to vocabulary, increases attention and memory, helps babylearn to understand the meaning of words, promotes learning and a love of reading.  I was sent these books to review, and I was excited to show T.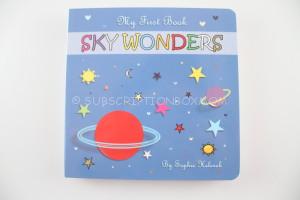 My First Book Sky Wonders:  This book is about objects in the sky: moon, star, cloud, planet etc.  I love astronomy, so I was excited to teach early concepts to T.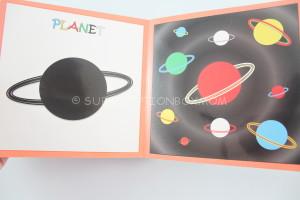 A look inside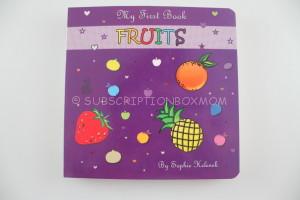 My First Book Fruits: This book is filled with, you guessed it, fruit.  T loved this book.  He loved to eat and had fun reading this book.
A peek inside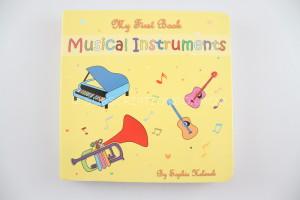 My First Book Musical Instruments $5,99  This was another favorite book of T.  T loves music.  We read this one several times one tight and T started to memorize the instrument.
A look inside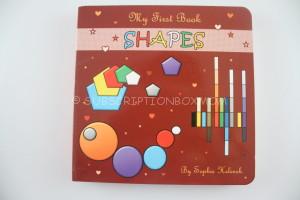 My First Book Shapes $5.99 This is a great book for both of my boys.  There are a couple shapes my oldest has trouble with, so both my boys will benefit for from this book.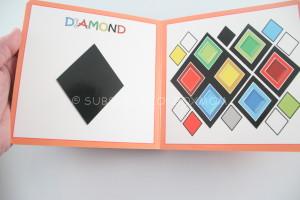 A look inside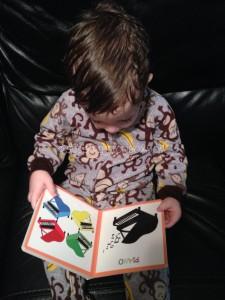 T loved this musical instruments book.  We read this one several times.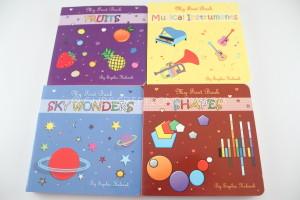 Final Thought: I really enjoyed this series. Not all board books are created equal.  My First Book Series is an engaging group of books, that T loved.  T is working on learning new words, and these books really stimulated his curiosity. I love that he asks to be read to now, and these have been our go to books the last several days.  If you want to get these books, check them out on Amazon HERE OR you can get all four books for $20,00 (read on for this deal)!  Sophie has created a special deal just for Subscription Box Mom readers, check it out HERE.  They are only $5,99 each!
Do you like FREE SUBSCRIPTION BOXES? Click HERE to see my free subscription box list.
Do you love Giveaways?  Check out all my Giveaways HERE
Disclosure:This post contains affiliate links.