SPARKBOX Toys is a curated educational toy subscription service. It brings personalized / age-appropriate learning toys to children. With a simple monthly membership, parents will receive high-quality learning toys selected by experts and tailored to a child's developmental needs. When you are done with the toys, you simply send them back for more…so no clutter or waste!
I saw SPARKBOX Toys on Shark Tank, and I thought it was a great idea!  I have to admit, we have way too many toys.  I love the idea of getting toys to play with and sending them back.  SPARKBOX has a five step cleaning process, to make sure everything is clean.  SPARKBOX Toys picks out 3 -4 toys for your child, but you can change what comes in your box, before you box ships.  If your child falls in love with a toy, you can buy one at a discount.
The Details:
Cost: $23.95/month for 8 weeks,  $28.95/month for 6 weeks, $35.95/month for 4 weeks
What's in the box? 
4 age-appropriate curated educational toys
Services Overview with our support & contact information
Detailed product card for every toy that include: development benefits for each toy, proprietary playtime ideas, product description & materials and any safety precautions/warnings
Mesh toy bag (for organization of toy pieces)
Return shipping label
Shipping?  Free shipping both ways.
What happens if I loose/damage a piece?  You will be charged a small fee to replace it.
How do I cancel?  Membership commitment is only 2 months. After the first 2 months, you can cancel at any time. Contact them at service@sparkboxtoys.com to change or cancel your membership
I received a box for my 2 year old son T.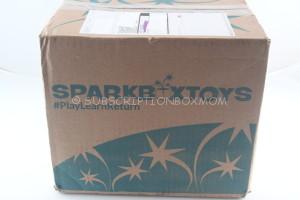 SPARKBOX Toys ships in a big box. When you subscribe, your shipping is included.  Once you are done with the toys, slap on the return label and send it back (free shipping).