September 29, 2016
09/29/16

By Subscription Box Mom

0 Comments
0
Plaid Cow Society Meat Subscription Box Review + Coupon
Disclosure: This post contains affiliate links.  I received this box for review
Plaid Cow Society is a brand new and very exciting meat subscription box.  You may be wondering, why choose Plaid Cow over my grocery store?  Plaid Cow Society only uses free range, grass fed cows, from the US.  All the cows live happy lives and are not crammed into small buildings.  Plaid Cow Society meat is fresh, hormone free, drug free and never frozen.
My father had a grocery store that had fresh, high quality meat.  Let me tell you, there is a world of difference in taste, compared to most of the meat you find in stores.  Did you know they inject chemicals and gas to keep meat that pink color in the store?  GROSS! High quality meat isn't cheap, which made me excited about this subscription.  For a 1 person plan, you will get 16 meals in 12 vacuum-sealed pouches.  Each meal has 6-8 oz and the whole box is $125.00/month, plus you can get a 30% discount on your first box.  I have a local store where I get my meat (high quality) and it is more expensive than this box.  With Plaid Cow, you can skip or cancel anytime.
Plaid Cow Society is still expanding across the US, but is currently variable in Arizona, California, Colorado, Idaho Nevada, Oregon and Washington.  In October, they will be shipping nationwide.
Plaid Cow Society shipped in a huge and heavy box!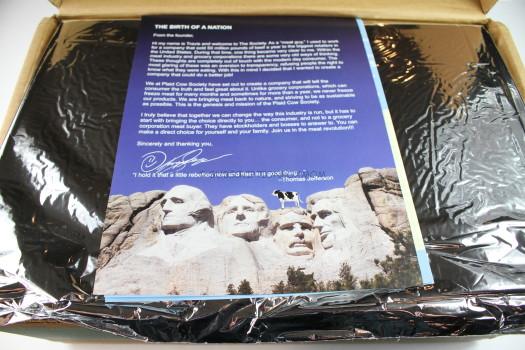 First Look.  There was a flyer on top introducing Plaid Cow Society.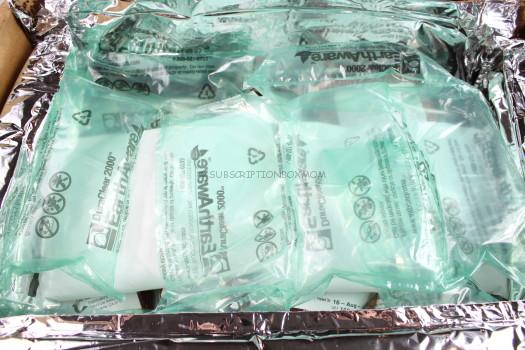 The meat was packaged nicely in ice packs. but the meat wasn't frozen, just very cold.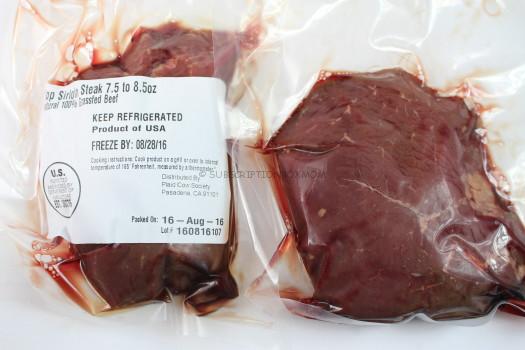 Top Sirloin Steak (2x) As you can see, all the meat is vacuum sealed.  I am a mid-western girl, so I love using my grill.  There was instructions to cook each cut of meat, but I tended to use my grill for a few cuts.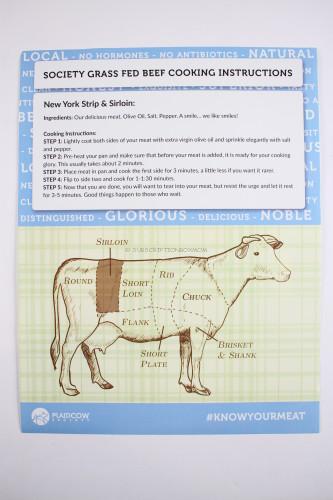 Each cut of meat had a flyer with information on cooking the meat and where that meat came from on the cow.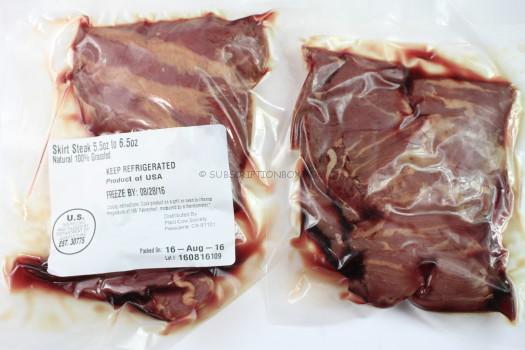 Skirt Steak (2x) I followed the instructions on for this steak and cooked it in my iron skillet.  I love a medium rare steak, so I didn't take pictures of most of my steaks.  I know some can't stand the look of a medium rare steak, so I will just leave you with descriptions the quality of the meat in this box. This steak became yummy strips in some teriyaki stir fry.  I left the pieces larger and it turned out so well.  I only used a tiny bit of teriyaki sauce, because the meat flavors really added to the dish.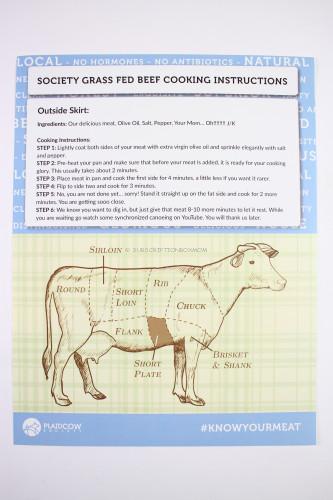 Here are the directions for the Skirt Steak.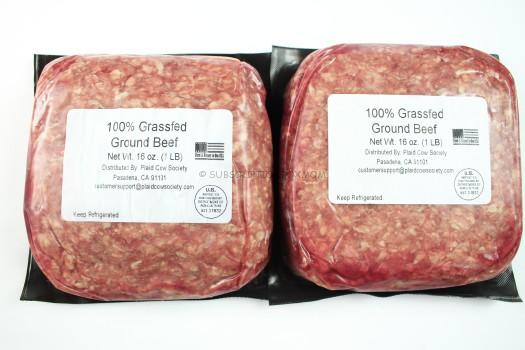 Ground Beef There were to 1lb packages of ground beef.  Again, this is high quality meat.  There was enough fat for flavor, but not nearly the level of store bought meat.  One of the packages made delicious tacos.  My 4 year child who never wants to meat, ate 3 tacos.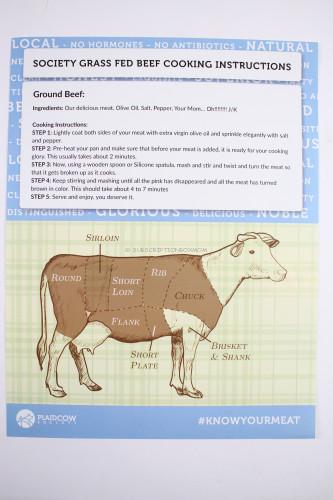 The directions are all pretty similar.  Make sure you have an iron skillet and olive oil.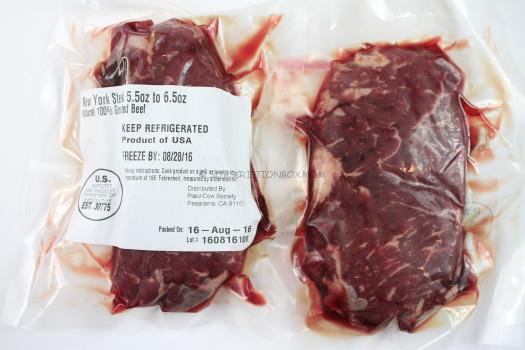 New York Strip (2x) Ah, my favorite steak.  This was the first meat I open and grilled.  The final result was so juicy and flavorful, I didn't even season it.  A baked potato and veggies completed my dinner.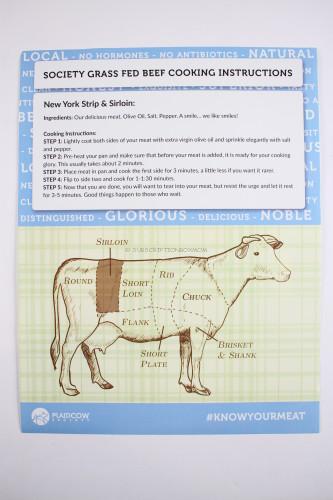 The directions for the sirloin are the same for the New York Strip.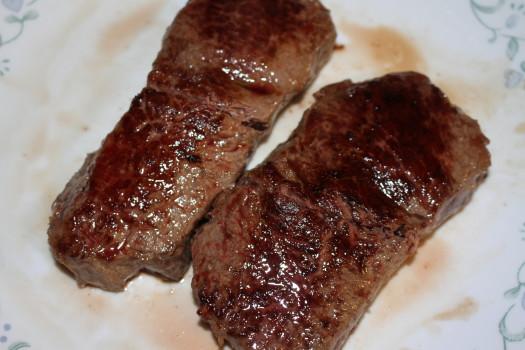 These are the finished steaks. Can you just taste the juiciness?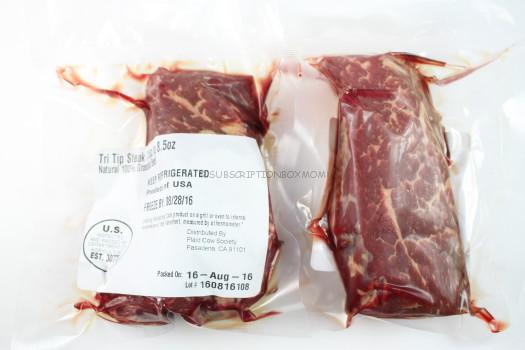 Tri Tip Steak (2x) This is a thicker cut steak, so you need to cook it on all four sides.  Make sure you let it set for about 5-10 minutes for maximum flavor.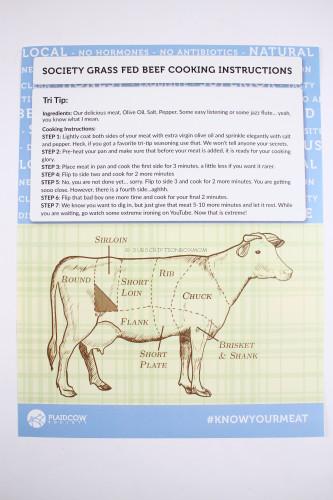 Tri Tip Steak Cooking Directions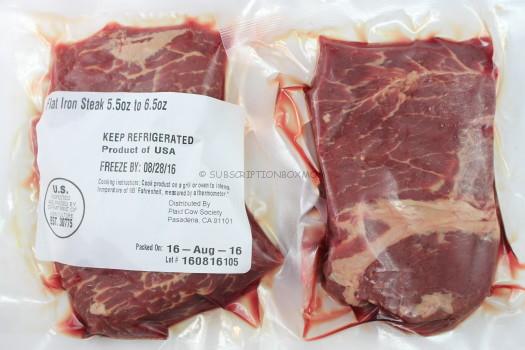 Flat Iron Steak (2x) I never buy flat iron steaks from the store, because I just don't like the quality of the meat.  I was really impressed with this steak and how good it tasted.  I made this into some great kabobs.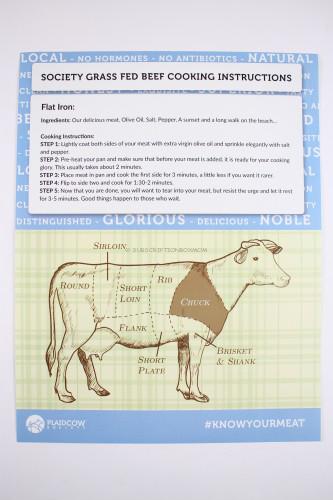 Flat Iron Cooking Directions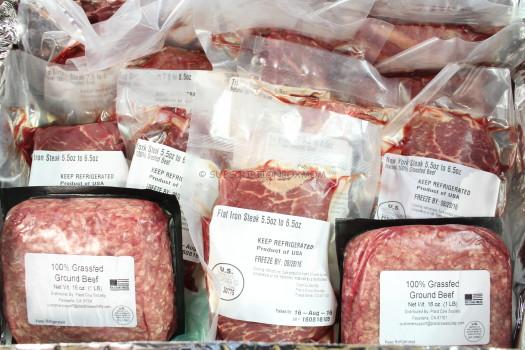 Final Thought This box was fantastic and was all about high quality meat.  You will get premium meat, free from all the nasty fillers and extra fat you don't want.  Even if you are not health conscious, you will be impressed with the flavor of this meat.  You can try this subscription with this link and get 30% off your 1st box.
Do you like FREE SUBSCRIPTION BOXES?  Click HERE to see my free subscription box list.
Check out my Full List of Subscription Box Coupons