September 9, 2015
09/09/15

By Subscription Box Mom

0 Comments
0
Junior Captains Starter Kit Review + Coupon
Disclosure: This post contains affiliate links.  This box was received for review purposes.
Junior Captains is a brand new subscription box that is for elementary age kids and follows Captain Bo and Alli around the world.  Captain Bo and Alli are sailing around the world in a 42′ sailboat and they are sharing their adventures with your child.  When you sign up, you will purchase a starter kit for $36.00, and it also comes with three months of online access.  Subscriptions are $12.00 month to month and you will get a postcard, along with online access to new landfall lessons, videos, activities based where Captain Bo and Alli dock.
The Details:
Cost: $36.00 for the starter kit at 3 months of online access.  $12.00 month to month for online access to lessons, videos, and activities.
What's in the box?  
The starter kit will contain:
18″ x 24″ World Map with custom rendering of the boat Capt. Bo & Alli will be sailing around the world!
Custom Junior Captains Logbook, made with recycled paper!
12″ Inflatable Globe
Junior Captains' Carrying Bag
Monthly packages will contain
A postcard
Online access to lessons, videos and activities based on where Capt Bo and Alli are located.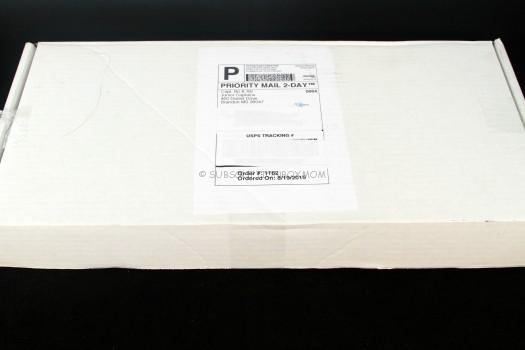 The starter kit came in a really large box.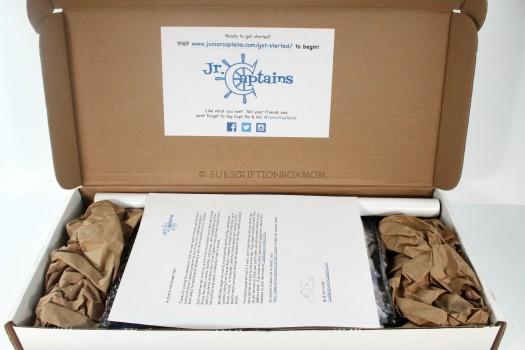 First Look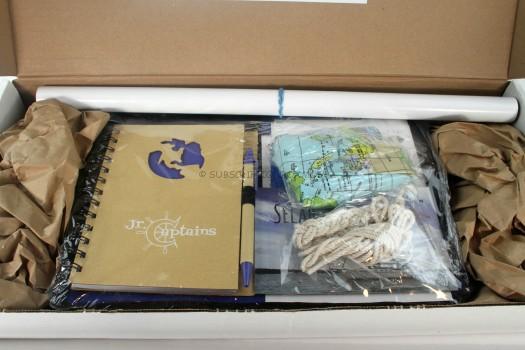 This is a look at the goodies.  Most of the contents were shrink wrapped in a bundle.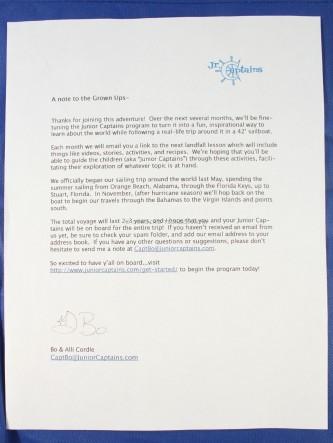 There was a letter to the "grown ups" that explain the nature of the subscription and gave a bit of an overview of where Captain Bo and Alli are going.  The total journey is lasting 2- 3 years and they started in Alabama and are planning to go to the Bahamas in November.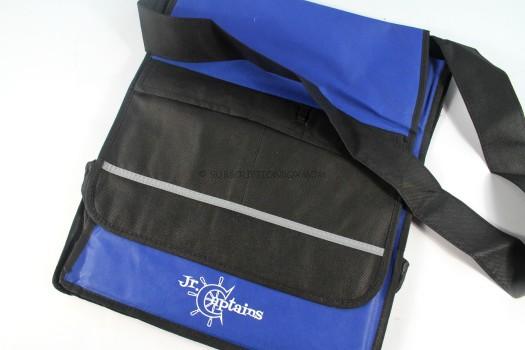 There was a large messenger type bag, to store all your treasures and postcards.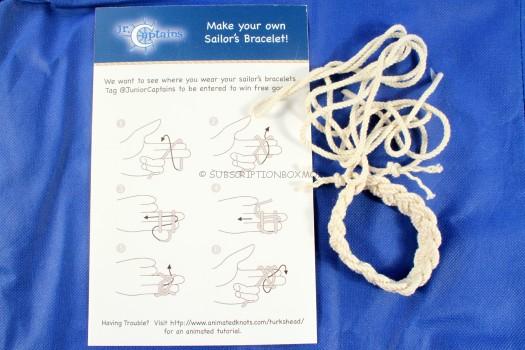 Sailor's Bracelet and Craft:  A sailor bracelet was included in the box, along with rope to create your own.  The sailor bracelet is similar to ones worn by sailors.  They made to show off rope tying skills, wipe sweat off their brow and give them food fortune.  Instructions were given, so your child can make their own sailor bracelet.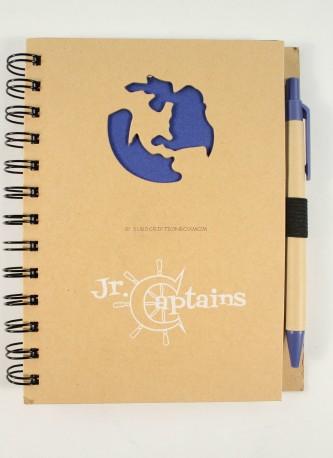 Junior Captains Logbook: The logbook is made of recycled paper and great for journaling about Captain Bo and Alli's travels.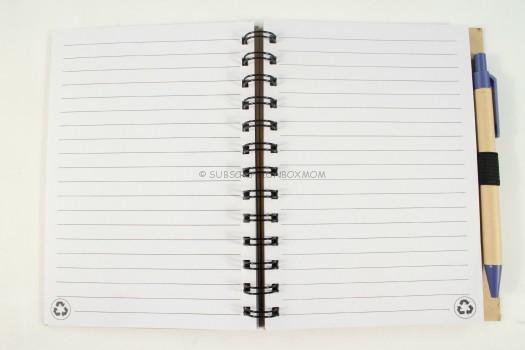 This is a peek inside.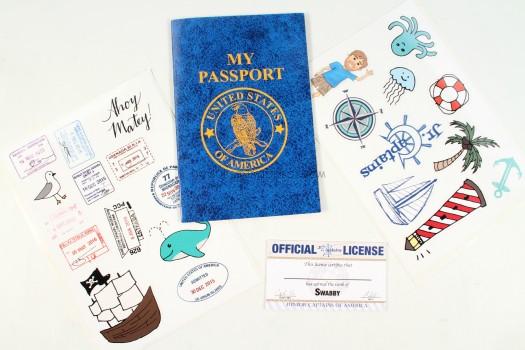 Passport, License, stickers:  Two sheets of nautical stickers, an official license and a passport was included in the kit.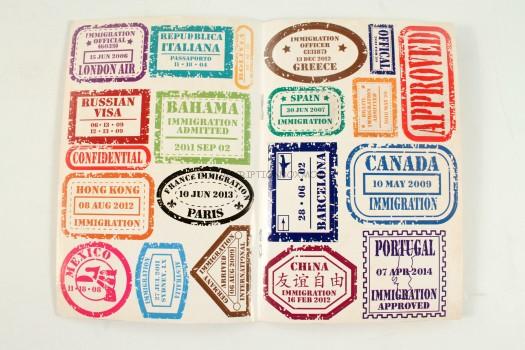 Inside the passport were blank pages to put the passport stamp stickers on.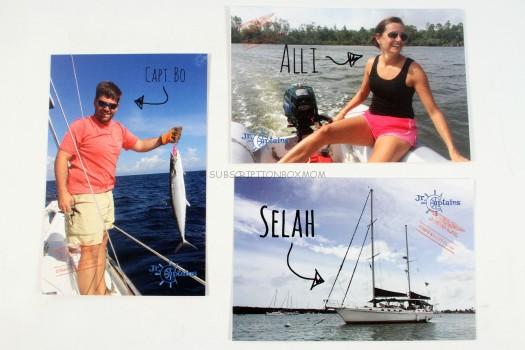 Postcards: There was a postcard for the boat, along with a postcard of Alli and Captain Bo.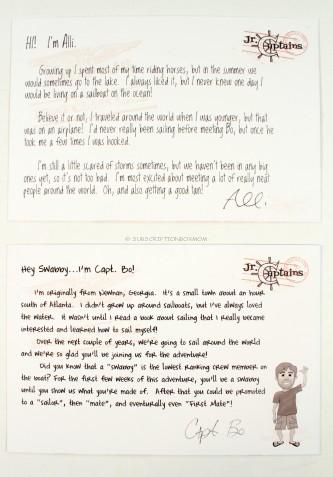 The back of the postcards for Alli and Bo have a little letter from each of them.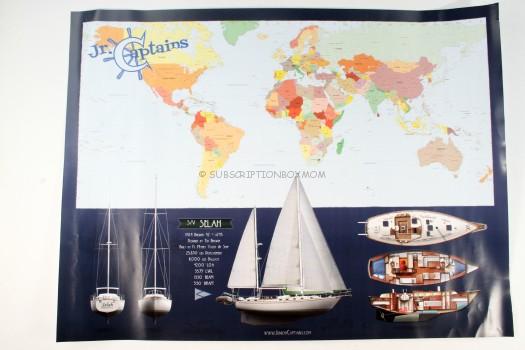 Poster: The was a huge poster of the world and the bottom features a closer look at the boat.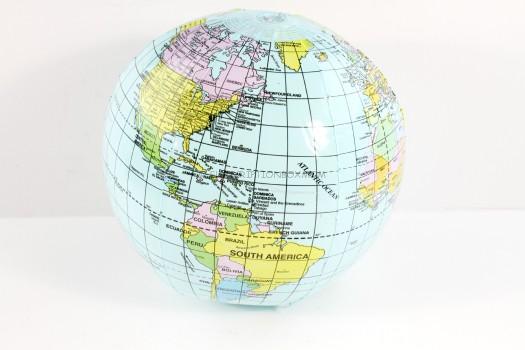 There was also an inflatable globe, so your child can find where the boat is at each month.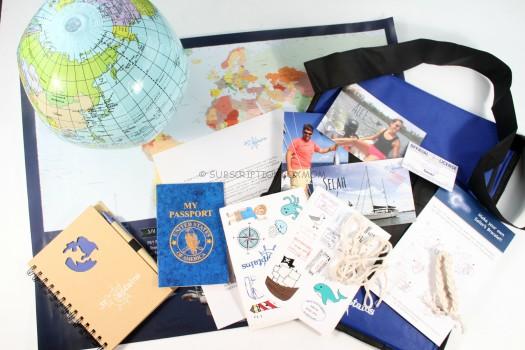 Final Thought: This was a really fun starter kit.  If you want to check out some videos by Bo and Alli, you can submit your email on their website and check out two videos.  I thought the starter kit was really cute and it also comes with 3 months of online content.  I wasn't able to check out all the online content yet, as it hasn't been released, but the starter kit is cute.  If you want to pick up the starter kit and check out Captain Bo and Alli's travels, use this link with the code SUBMOM10 to get 10% off the starter kit.
Do you like FREE SUBSCRIPTION BOXES?  Click HERE to see my free subscription box list.
You can see my FULL coupon list HERE.
Do you love Giveaways?  Click HERE to enter all my Giveaways