September 3, 2015
09/03/15

By Subscription Box Mom

0 Comments
0
Festy Box August 2015 Review
Disclosure: This post contains affiliate links.  I received this box for review.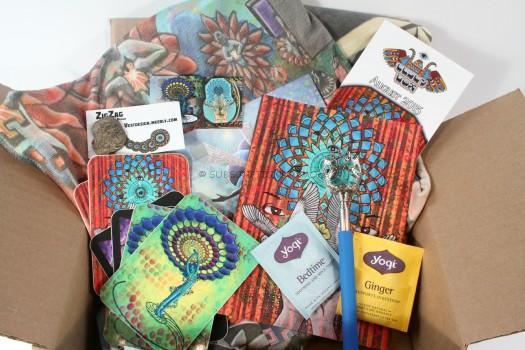 Festy Box is a music festival subscription box that sends festival accessories, apparel, and exclusive artwork in each box.  Boxes start at $10.00/month and feature a new artist/theme each month and are filled with a variety of items (depending on the tier), but there will always been pens and stickers.  There are three different subscription plans: Tier 1: One pin and a small sticker pack, Tier 2: Two pins and a large sticker pack, Tier 3: Three pins and a large sticker pack.
The Details:
Cost/shipping:
Tier 1: $10.00/month plus $3.00 shipping
Tier 2: $20.00/month plus $5.00 shipping
Tier 3: #35.00/month plus $5.00 shipping
What's in the box?
Tier 1: Slap pack, pins, and more
Tier 2: Larger Slap pack, 2 pins, small festival goodies and more
Tier 3: 3 pins, Larger slap pack. Small festival goodies. Larger festival goodies. and more
I received the Tier 3 box for review, which is the largest of the three boxes.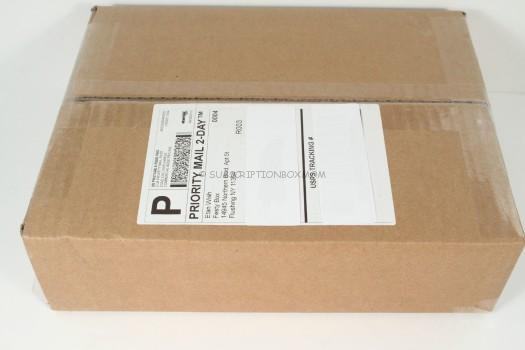 Festy Box came in a large brown box and shipped by priority mail.
There was a full color brochure featuring the artist of the month, Drake Arnold.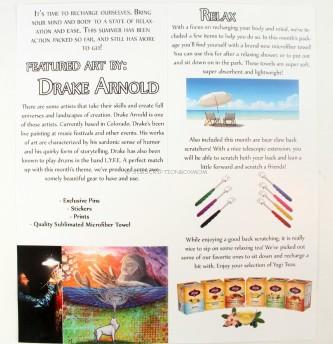 The brochure inside featured items in the box, as well as some background on Drake.  Drake is from Colorado and his art reflects his "sardonic sense of humor and his quirky forms of storytelling".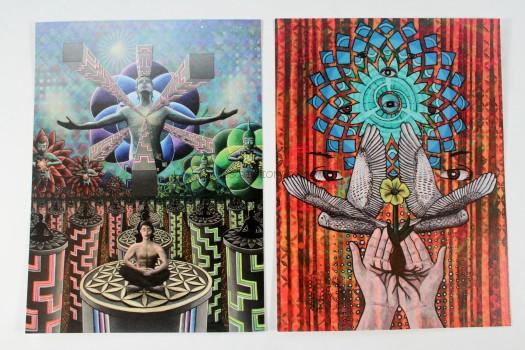 Prints:  These prints measure 8.5 x 6.25, and feature two of Drake Arnold's work.  They have a really unique color palette and I love looking at the one on the left.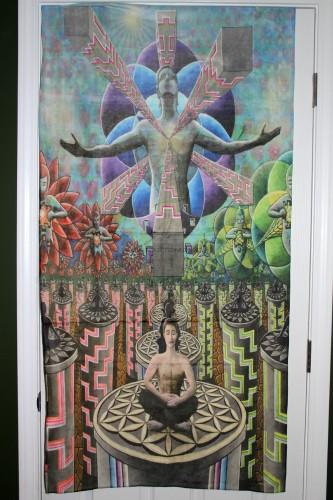 Microfiber Towel: Just like the print this 57″ x 27″ towel is huge and is even big enough for my 6'5 husband, this is almost too cool to use.  You can bring this towel to all your favorite festivals and look cool while staying comfortable.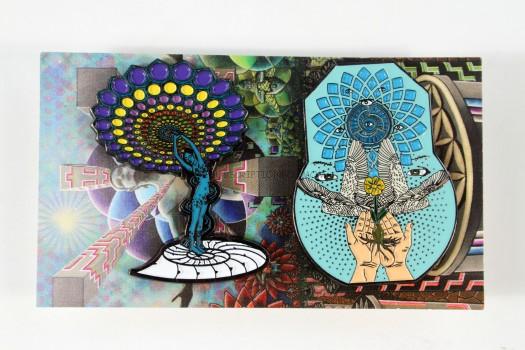 Pins:  These pins may be my favorite pieces in the box.  I love the detail of each pin, each are a true work of art.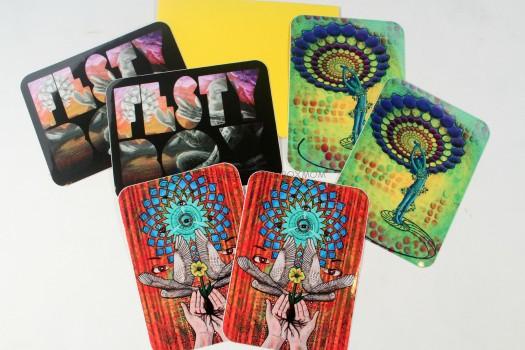 Slap Pack Stickers:  There were two Festy Box stickers and four stickers featuring Drake Arnold.  These would look great on your door, journal, planner etc.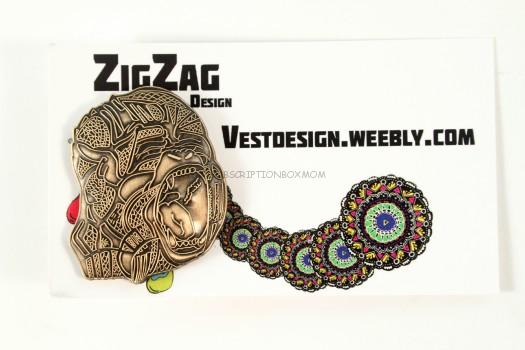 Zig Zag Design Primal-Sapian:  What a fierce looking pin!  The intricate design on this is incredible and certainly a statement piece.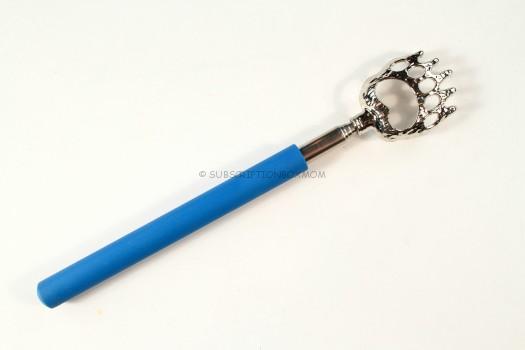 Bear Claw Back Scratcher: This back scratcher has a telescopic extension, so you can get that hard to reach scratch.  My boys loved this and they boy want to keep it!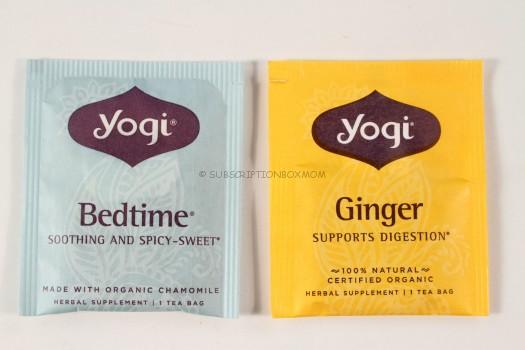 Yogi Tea: After a fun-filled day at your favorite festival, this tea can help you wind down.  Two blends: bedtime and ginger were included in the box.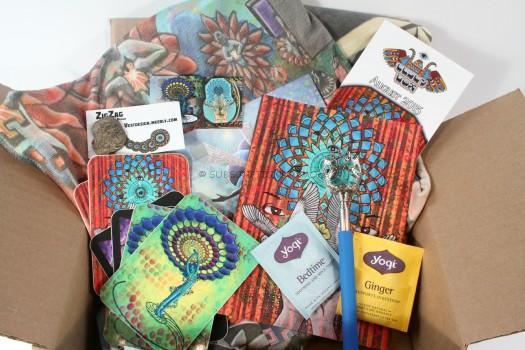 Final Thought:  Given the unique nature of these items, I couldn't give a cost breakdown.  I think this box is well worth the $35.00 cost.  If you love going to festivals, and finding new artists, this is a box to check out.  This box is sure to give you some great art at a nice value.  If you are interested in Festy Box, use this link.