August 22, 2015
08/22/15

By Subscription Box Mom

0 Comments
0
Japan Crate August 2015 Review + Coupon + September Spoiler
Disclosure: This post contains affiliate links.  I received this box for review.
My family loves our last Japan Crate, so we were thrilled to get the August Box,  Japan Crate is a box packed full of authentic Japanese treats and candy.
There are three different boxes: Mini,  Classic, and Premium.  I was sent the Premium box for review, which is $30.00/month and contains 2 lbs of treats, a drink, 1 DIY KIT and 12-18 snacks.
The Details:
Cost: Mini: $12.00/month, Original: $25.00/month, Premium: $30.00/month
What's in the box? There are three different boxes:
Mini: 1/2 lb crate containing 4-6 candies
Classic: 1 lb crate containing 8-10 candies
Premium: 2 lbs crate containing a drink, 1 DIY KIT and 12-18 snacks.
Shipping: Japan Crate ships their boxes free to the USA but there is a $10-$15.00 shipping charge for international customers.
Cancel: When you sign up you are sent an e-mail and link to manage your account.  From there you can stop, pause, or change your membership.
Japan Crate comes in a bright red box!
First Look
Information Guide: The guide was set up like a manga, where you read from back to front, which I thought was really cool.  The guide had some subscriber pictures, featured snacks, DIY  instructions and everything in the box.
DIY KIt Instructions:  All premium kits include a DIY kit and the include the instructions in the guide.  I love the inclusion of the instructions, because I always forget to look online.
Box Contents:  There are three different boxes and you can see which snacks come in each box by looking at the chart above.
I couldn't wait to dig into all the yummy treats.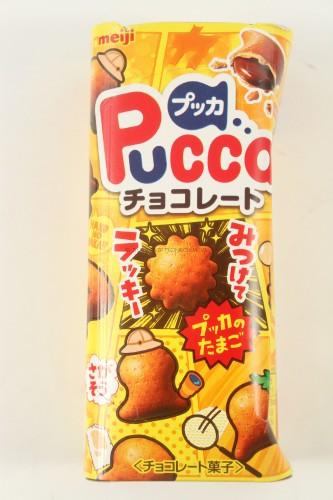 Chocolate Pucca: These are little crunchy pretzel fish, filled with chocolate. They are very similar in constancy as Koala's March.  My whole family loves these.
Crackling Cotton:  One of the best Japanese snacks ever made, this is cotton candy filled with pop rocks (grape flavor).
Soy Sauce Pretz:  My husband loves the pizza Pretz, but these were new to us.  These have the same cracker stick, but they are coated in a soy sauce powder, very tasty.
Mario Kart Gum: Inside each package is a little white square piece of gum, each with a different flavor.  I was impressed with the amount of gum we received.
Chocoroom DIY: This is the featured DIY kit which involves taking mushroom biscuits and dipping them in chocolate and/or strawberry icing.  Who says you shouldn't play with your food.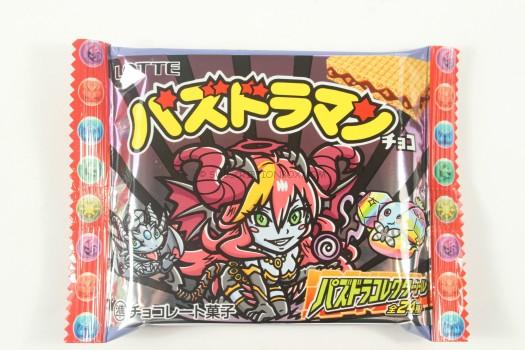 Puzzle & Dragons  x Bikkuriman Wafer: Bikkuriman is a popular Japanese anime.  The characters are featured on the package but not the snack itself.  This treat is a sugar wafer sandwich filled with chocolate.  It also comes with a sticker.
I am not sure who this is… anyone know?
Crayon Shin-Chan Candy:  These are candy coated pieces of ramune hard candies.  Shin-Chan is a popular cartoon and manga about a 5 year old who makes funny mistakes and gets in trouble.  It sounds like a Japanese Dennis the Menace.  The package is pretty unique too, you pull down the paper on top, which pulls down Shin-Chan's pants, and out comes the candy.
Pokemon Puzzle Gum: This pack included a piece of gum and a little puzzle.
This is a look inside.  The gum pictured is also what the Mario Cart gum looks like.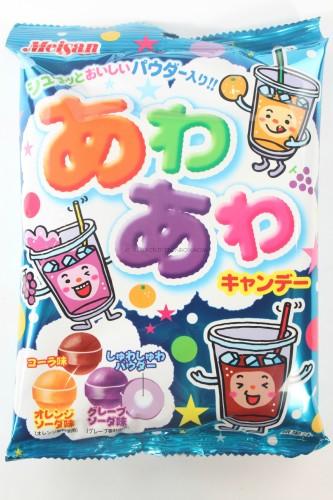 Shuwa Shuwa Soda Candy: These hard candies have a fizzy action inside.  I had something similar when I was a child.
Creamy Melon Soda:  I like melon soda candy, so I expect I will like this.  Melon soda is a cross between lemon/lime and cream soda.
Japanese BBQ Scones: These taste just like BBQ Cheetos!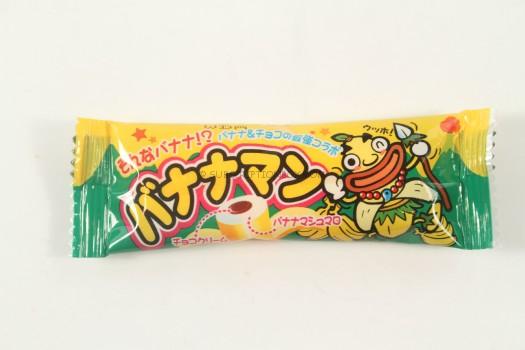 Wow, Such Banana?!:  This is a banana flavored marshmallow with a chocolate jelly center.
Soda Mixing Jelly Beans: These little jelly beans have different flavors and you can mix them to make all new flavors.  We have had gum like this
Final Thought: Once again, Japan Crate delivered a huge box of treats and snacks.  I love the variety in each box, and this box is big enough for a family to share.  I don't have access to an Asian Market, so I love getting Japanese snacks in the mail. If you want to check out the YouTube unboxing, use this link.  If you want to try Japan Crate, use this link with the code gudetama, to save $5.00 on the premium crate.
September Spoiler: Each box will contain Gudetama (I am guessing as a key chain).
Do you like FREE SUBSCRIPTION BOXES?  Click HERE to see my free subscription box list.
You can see my FULL coupon list HERE.
Do you love Giveaways?  Click HERE to enter all my Giveaways.