April 15, 2015
04/15/15

By Subscription Box Mom

0 Comments
0
OmNomBox April 2015 Review + Coupon
Disclosure: This box was received free for review.
OmNomBox is an Asian snack subscription box, that sends a box of tasty goodies each month.  "OmNom" is the sound of someone eating yummy food, so that is the reason behind the name. As soon as I heard the name, I thought of Cookie Monster. OmNomBox is $25.00/month and they send a yummy bunch of snacks from  Japan, Korea, Taiwan and more!  I love snack subscription boxes and I couldn't wait to try the April 2015 OmNomBox.
The Details:
Cost: $25.00/month
Shipping:  This box ships worldwide.  There is free shipping to the United States and there is a fee for international shipping.
What's in the box? Each month, you get a large selection of snacks from all over Asia.
How do I cancel? You can cancel from your account.
OmNomBox ships by USPS and the box is super cute.  I love the little box character on the box.
Ah Cute!  There was a little face staring back at me!
Second Look:  Look at all the snacks!  Note:  For a full look at what the snacks looks like out of the package, check out my unboxing video at the end of this review.
Nongshim Honey Twist Snack: This is a cross between a cereal and a chip.  They are a spiral snack coated with a sweet honey coating, and a taste of apple.  These are from South Korea and they were really good.
Ottogi Korean Smash Noodle: This is a Korean snack.  You take the flavor packet out of the bag, smash-up this snack, add the flavor and eat.  This has a Korean BBQ flavor and looks pretty neat.  I haven't had a chance to try this yet, it looks great.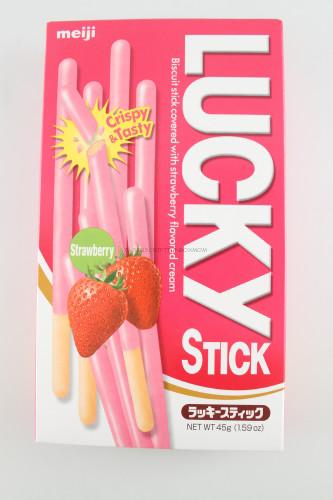 Strawberry Lucky:  This is similar to Pocky and the second most popular brand.  The sticks tastes likes a cracker and are coated with a strawberry icing.  These were really good,
Hello Kitty Crackers: These little shortbread cookies are shaped like Hello Kitty.  These are cute and very tasty.
Kita No Tamago No Stable: These are butter cookies and they are shaped like an egg cookie.  You can break them in half and share with a friend.  These tasted fantastic and they were really fresh.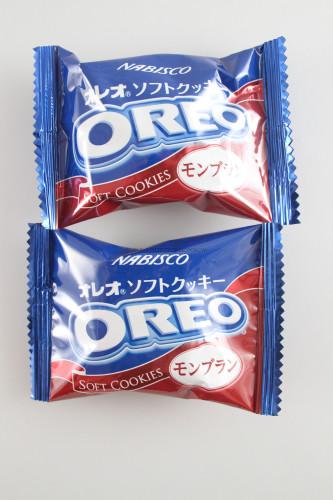 Orea Mont Blanc Cookies: These are soft Oreo cookies that are filled with chestnut creme.  The cookies were incredibly tasty but I am not a big fan of chestnut creme.  My husband loved these cookies.  I love that my husband and I have different tastes, as we each get special treats from the box.
Chocolate Hello Panda: I love Hello Panda.  They have a crunchy cookie coating with a chocolate center.  These are really tasty and are similar to Koala's March.
Fujiya Home Pie: These are little layers of chocolate and butter crispy cookies.  I really loved these.  They were very crispy and sweet.
Mini Sulveine Chocolate Cake:  These two packages are tiny little cakes!  There was a chocolate and vanilla cake in the box. I ate the chocolate and my husband tried the vanilla.  Both pieces were very moist and delicious.  Each cake has some creme inside.
Triple-M Sticks: This is a crunchy dried seaweed snack from Thailand.  I have a family member who loves dry seaweed, so this will go to him,
Apple Sidra:  This drink comes from Taiwan and has "apple essence".  This has a natural apple taste but very carbonated.
OmNom…Bag: There was a goody bag filled with various wonderful candy.
There was an assortment of hard candy and gummies in the bag. I tried a watermelon gummie and a strawberry cream hard candy.  This was a nice surprise bag of treats.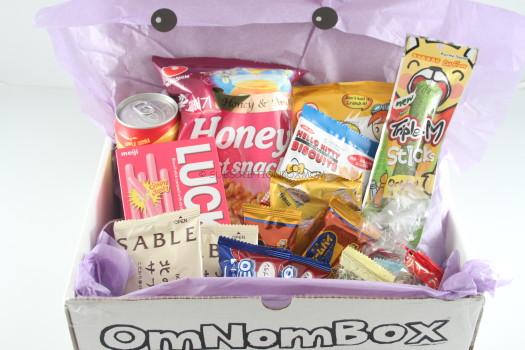 Final Thought: This box was really wonderful.  I loved the assortment of snacks and goodies in the box.  The Mini Sylveine Chocolate Cake was my favorite item in the box.  I really have to have more of them, as they are fantastic.  This box was perfect for my family, as everything was enjoyed in this box.  If you want to try OmNomBox, use this link with the coupon SHAREOMNOM to save $5.00 on your first box.
To see my unboxing and taste test of the snacks, watch my unboxing video below.
Do you like FREE SUBSCRIPTION BOXES?  Click HERE to see my free subscription box list.
You can see my FULL coupon list HERE.
Do you love Giveaways?  Click HERE to enter all my Giveaways.