April 23, 2015
04/23/15

By Subscription Box Mom

0 Comments
0
April 2015 BerryCart Review + Coupon
Disclosure: This box was received free for review.  This post contains referral links.
BerryCart is a new food subscription service that sends healthy snacks along with cash back rebates for everything in the box.  BerryCart has an app for cash back rebates on nothing but healthy foods.  The snacks in the box contain no high fructose corn syrup, artificial flavors, sweeteners, or preservatives.  I use many different money-saving apps, and it is not always easy to get healthy food coupons.  The app is free to download and once you get $5.00 cashback, you can submit to get you cash on a gift card or into your Paypal account.  You can register with BerryCart and download the app HERE.
BerryCart is $29.00/month and you will get 8-10 snacks each month, 4 will be full size.  You will also get an exclusive rebate on a produce item each month.  The phone app will also have cash back offers for everything in the box.
The Details:
Cost: $29.00/month
What's in the box? You will get 8-10 snacks each month, 4 will be full size.  You will also get an exclusive rebate on a produce item each month.  The phone app will also have cash back offers for everything in the box.
BerryCart comes in a plain priority mail box.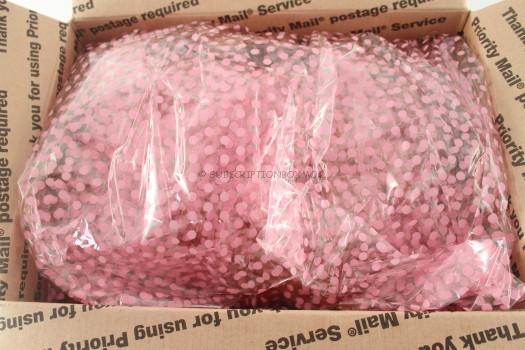 First Look: Everything was packaged in clear polka dot plastic.   I am going to keep this and use it for future gift wrap.
There is an information card included in the box that lists all the items in the box and the cash back offer for each item.
The exclusive item coupon for this box is bananas, with a .30 cashback rebate.
Beanfields Nacho Bean and Rice Chips $6.78 I love Beanfields chips.  These are vegan, corn free and all natural.  I love Doritos and these are a great healthy alternative, even my husband loves them.  This is a full size bag and there is a .50 cashback rebate.  I will be buying more of these!
I Heart Keenwah Peanut Butter Cacao Quinoa Clusters $8.33  First, let me just say I love the name.  Keenwah is how you say "Quinoa".  These are natural quinoa clusters with peanut butter and chocolate (cacao) added.  These gain-packed clusters have a peanut butter/chocolate coating that makes these less "healthy" tasting.
Ips The Original Egg White Chips $1.92  These chips are made with whey and egg white.  These have 6 grams of protein per serving and half the fat of regular potato chips.  These have a light fluffy texture with a white cheddar taste.
Simple Squares Organic Snack Bar, Coconut $2.37 This bar is organic and made with nuts, coconut, sea salt and honey.  I am not a fan of coconut, so I am giving this to a family member.  There is a $1.00 cashback rebate for this bar.
Hemp Hearts Raw Shelled Hemp Seeds $1.00 These have 10 grams of plant-based protein in three tablespoons.  I prefer to eat them straight from the package, but you can also add these to a salad.
Pyure Organic Stevia Sweetener  This is a natural sweetener, that is made with stevia leaves and is calorie free.  There was a $1.25 cashback rebate for the Stevia.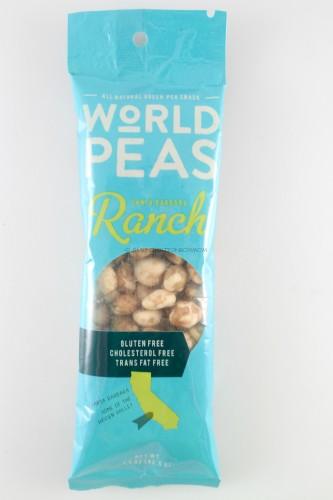 World Peas Santa Barbara Ranch Green Pea Snack $1.25 These are crunchy "green" peas with a ranch powder coating.  I am not wild about the peas (not really a fan), but the ranch flavor makes it takes better.  There was a .75 cent rebate offer with the World Peas.
Laughing Giraffe Organics Chocolate Snakaroons $3.09  These are three little mounts of coconut and chocolate.  These are gluten-free, vegan and high in fiber.  My dad loves macaroons, so these will go to him.  The snakaroons have a $1.00 cashback rebate.
Kutoa Cherry Cashew $2.08  This bar is made with small batches, is non-gmo and has no artificial sweeteners.  This is a cherry chewy bar that tastes fantastic.  This doesn't have any preservatives, is gluten-free and vegan.  You can get .75 cash back when you buy this in the store.
Final Thought; This box had a total value of $26.82.  The regular monthly cost is $29.00/month, so I wish the value was a bit higher.  I do love the BerryCart cell phone app. You can download the app and save on all kinds of great healthy foods.  You can also find local stores to buy all the snacks.  I did enjoy all the products I tried, but the subscription would be better with a higher value of snacks.  If you are interested in checking out BerryCart, use this link with the code GET5OFF.  
Do you like FREE SUBSCRIPTION BOXES?  Click HERE to see my free subscription box list.
You can see my FULL coupon list HERE.
Do you love Giveaways?  Click HERE to enter all my Giveaways.